Recently, I met an advertisement for Packity. They advertise a new type of passive income of making money home. They promise to pay a decent amount of $0.10 to users if they share their unused bandwidth. The only requirement is to download a software on your PC, Mac or Android and let it run in the background.
Moreover, users can also earn money through their referral programme. The reward amounts to $3 for every user who runs the program for a full seven days.
Details
Update of 22nd October 2020: Because of lacking payment proofs and multiple scam accusations, Packity has been declared as scam.
What is Packity?
Packity is a proxy network which allows everyone to earn a passive income by sharing their unused internet bandwidth through the Packity software.
That means if you have large internet bandwidth, let's say 100 MBits or upwards, and use only a part of them, then you can contribute your bandwidth to a network. In return, you receive compensation for your contribution which is up to $0.10 per shared Gigabyte. Sometimes, in times of high demand, you can even earn $0.05 on top of that
According to Packity, your internet bandwidth will be exclusively used by data scientists to conduct business research, brand protection, and web data collection. Each participant, who uses the Packity network, is verified using the KYC method. Moreover, the company claims that customer security is a top-notch priority and ensures that every activity within the network is secured.
Try out with Packity
Yesterday in the noon, I downloaded the Packity software and wanted to examine whether Packity fulfils their promise. The installation went swiftly and the set-up was uncomplicated. After the setup, I ran Packity in the background and no high CPU usage or high traffic spikes were recorded.
In regular intervals, I logged in into my Packity account to check whether I gained some. Throughout the day, there was no activity. Above all, I noticed almost no traffic by using their application
It seems that there is currently no demand for internet bandwidth in my country. According to user posts, some other users experience the same issue. The Packity website says that there is currently demand only in a few countries, for instance, North America or the UK.
How much can I earn on Packity?
Packity stated in the FAQs that the application won't use more than 15% of your bandwidth. That means with a download speed of 250 MBits which is equivalent to 31.25 Megabytes per second, the Packity application uses around 4.68 Megabytes per second. The payment for 1 shared Gigabyte amounts to $0.10 at an uptime above 59% or $0.05 at an uptime below 60%.
Consequently, you would earn every ~220 seconds $0.10. This amount varies as the earnings are dependent on the demand in your country. In times of low demand, you would earn nothing. In times of high traffic, you would earn up to $0.10.
Also, Packity offers additional incentives to long term users.
What are the possible risks by using Packity?
The use of Packity may get you in trouble as you're willing to share your unused internet bandwidth. Since Packity acts as a proxy network and allows external customers to use the Packity network, you allow strangers to use your internet bandwidth for unknown activity. It is unknown what kind of strangers make use of the Packity network and you are unable to see what they really do.
Moreover, you're responsible for any activities on your internet network. Therefore, if the clients of Packity abuse your network for illegal activities, you bear the guilt. Although Packity claims that they secured the application for customers, you should never trust blindly in such claims.
Furthermore, the provided software of Packity is safe to download. VirusTotal reports that it couldn't find anything suspicious.

Update: A user of Packity reported recently that the software might install a trojan which can take control over your PC. In that case, please do an antivirus scan.
How can I start earning money using Packity?
First of all, you need to download the Packity application from the website, either the Windows, Mac version or Android version. Linux users can also download in the near future the software.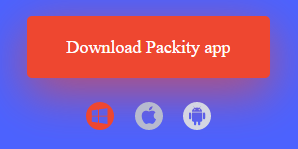 Upon starting the application, the application will install itself on your operating system. After successful installation, you will be prompted to sign in or, if you haven't done so yet, sign up. Once you are logged in, you can close the application as it will run in the background.
In approximately 24 hours, you can start seeing earnings in your Packity account balance.
Company Information
The use of GPT sites requires always a thorough check. Therefore, I conducted research about whether the company Packity exists. According to the website, they are registered in the U.S. and are located amidst New York.
After my research, I come to the result that Packity is registered neither in the USA nor New York. Likely, Packity LLC registered itself under a different company's name to avoid paying taxes. A forum user reports to received money from Secured Stack Network.
---
Conclusion
To sum up, Packity is relatively new in the GPT industry and although they offer adequate rewards, not every user can get in favour of that. The earnings are dependent on the demand of the respective country and me, as a European, maybe not the right user. Users from North American or the UK may be luckier in this way.
Besides, Packity seems to falsify their appearance as a company, but this doesn't mean they are not paying to their users. In fact, users are getting paid from Packity.
Out of my sight, I don't currently recommend Packity. On the one hand, because of the missing reputation, on the other hand, because of the low demand in some countries. I would revise my opinion about Packity if things are becoming better at Packity.