With more people trading crypto on exchanges, the crypto-lending market has seen a tremendous rise over the past three years. A lot of the existing crypto lending websites are way more profitable than lending in the traditional financial system. And, they are pretty much safer thanks to the platform Ethereum and various security methods they employ.
Below, you will find highly profitable crypto-lending sites you shouldn't miss.
Nexo
Nexo is one of the largest centralized crypto lending services out there. It started in 2018 with an ICO using the NEXO token and has gained a lot of popularity since then. They are well-known for the highest security on custodial assets, secured by Ledger, BitGo and others. Unlike other companies in the crypto space, they follow a conservative strategy to lending out loans.
Earning interest on Nexo is diverse since they provide a range of cryptocurrencies and tokens and provide the option to earn in-kind or in Nexo token (with a bonus of 2%). Furthermore, locking your balances for 1, 3 or 12 months can give you an additional percent on top of the account.
If that's not enough, Nexo introduced 4 tiers that depend on your Nexo holding. If your portfolio holds at least 10% in NEXO, you will be in the highest tier, and thus, earning high interest and enjoy low loan rates. Below, you see the different tiers and benefits.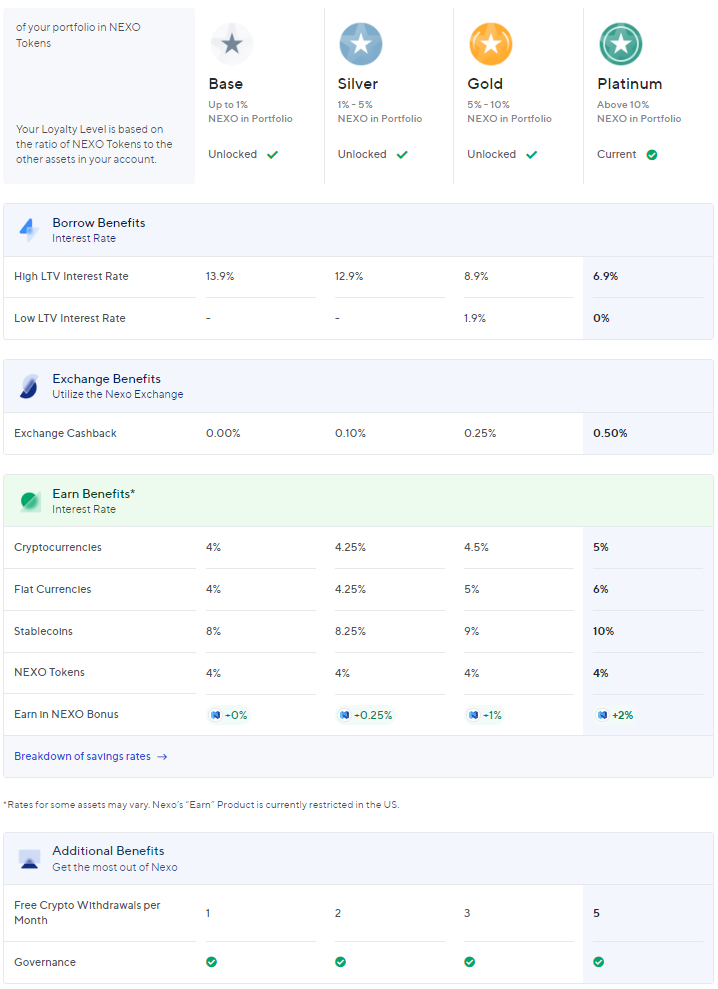 It's worth noting that your investment willl compound on Nexo.io. There is also a saying which also applies to crypto lending …. .
Compound interest is the eighth wonder of the world. He who understands it, earns it, he who doesn't, pays it.

Albert Einstein
All in all, I suggest investing directly on their website as you profit from the compounding feature and the interest rate is nearly the same.
Website: https://nexo.io
Interest Rates: 4%/ann to 12%/ann
Accepted Cryptocurrencies: Stablecoin, Cryptocurrencies, Tokens, ICO Token (Nexo) (see more below)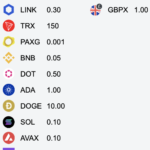 ---
Compound.Finance
Compound.Finance, a crypto-lending dApp based on Ethereum, also offers pretty interest rates of up to 10% annually. Unlike other platforms, you don't have to go through a KYC process nor need to sign-up using your personal information, which provides anonymity and security.
Starting lending or borrowing crypto on Compound.Finance requires first of all the browser extension MetaMask which acts as a bridge between you and the platform. The MetaMask extension is available for Firefox, Chrome, Brave and Opera. Once you set up your Metamask account, you can start funding your Metamask wallet and communicate with Compound's dApp.
The interest rates fluctuate between 0% and 10%; the listed Stablecoins USD Coin and DAI offer the highest interest rates there.
While there is not much information on how Compound pays interest to their user, usually, interests will be paid with every new Ethereum block.
Website: https://compound.finance
Interest Rates: 0% to 10%/ann
Accepted Cryptocurrencies: Ethereum, Dai, USD Coin, Augur, 0x, Wrapped BTC, Basic Attention Token
---
---
BlockFi
The New York-based start-up BlockFi offers interests on the popular cryptocurrencies Bitcoin, Ethereum and Gemini Dollar. While Nexo and Celsius Network may be popular among people, BlockFi might be still unknown to most of you. However, the two-year-old start-up raised lately $18.3 million in funding led by the notorious investor Peter Thiel. The fundraise should help to build a bridge between crypto and the traditional financial system, letting more people access blockchain products.
Currently, BlockFi offers the above-mentioned cryptocurrencies to earn interest on. The annual interest ranges from 6.2% to 8.6% with GUSD offering the highest for investments above $2500.
Moreover, the minimum investment amount at BlockFi is set truly high with a minimum amount starting from $2500. Nevertheless, an advantage is the compounding feature which allows to re-invest the daily earnings in your investment account.
Website: https://blockfi.com
Interest Rates: 6.2% to 8.6%/ann
Accepted Cryptocurrencies: Bitcoin, Ethereum, Gemini Dollar
---
Conclusion
There is a variety of crypto-lending sites. Some of them offer interests on many cryptocurrencies, others only on Bitcoin or Stablecoins. Although all of them provides high annual interest, I personally would go with Celsius Network or Nexo as they have a range of cryptocurrencies integrated and provides additional security for customers' funds. Besides, their rates are one of the highest among all.