Below, you can find a list of tried and tested cryptocurrency PTC sites which I had been using in the past and are still in favour by me. I picked these sites thoroughly as it is easy to reach the minimum withdrawal, have a plenty amount of available ads or have remarkable features on these sites.
AdBTC.Top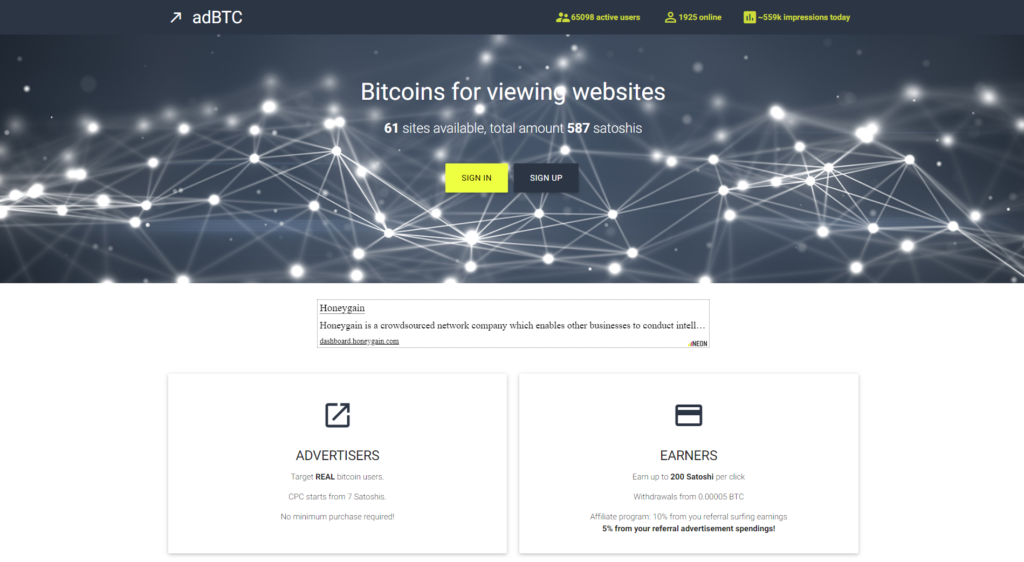 Cryptocurrency: Bitcoin
Payout per Ad: at least 6 Satoshi per Ad
Withdrawal Threshold: 1 Satoshi (FaucetHub), 35,000 Satoshi (Direct)
Extra Features: Surf with Active Window, Autosurfing, Purchase Referrals, Loyalty Bonus (Points System)
AdBTC.top is a long-established Bitcoin PTC sites, operated by Russian owners. This PTC site offers rewards from 6 Satoshi to ~100 Satoshi at Surf Ads. The rewards for surfing with active window and auto surfing are comparatively lower. Moreover, AdBTC.Top has an integrated points system where users receive for every viewed ad a point. With points above 25 or 50, users can access to more valued ads. The withdrawal threshold is set at one Satoshi for withdrawals using FaucetHub or 35,000 Satoshi using direct withdrawal.
BTCClicks.com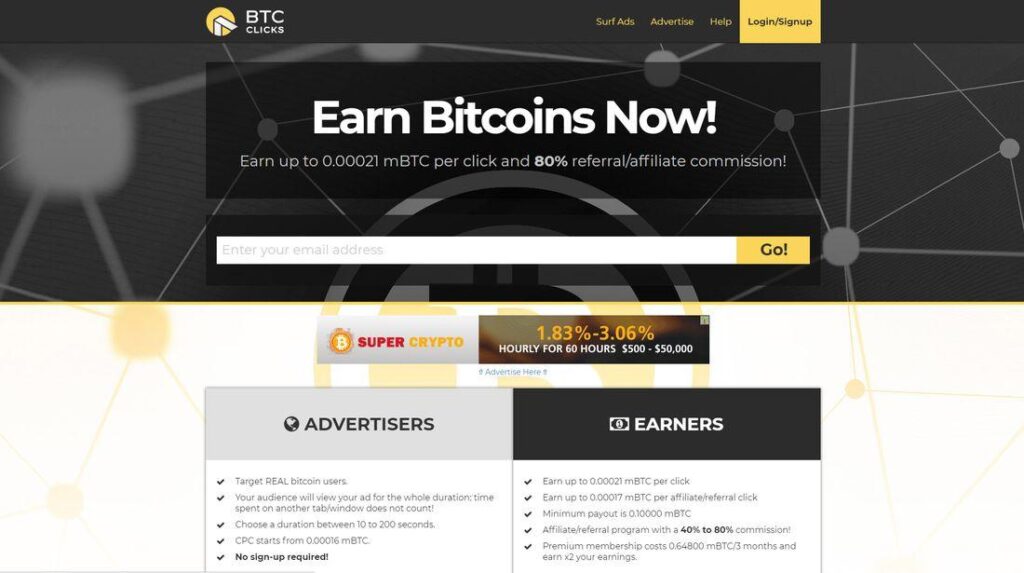 Cryptocurrency: Bitcoin
Payout per Ad: at least 3 Satoshi per ad
Withdrawal Threshold: 0.0001 Bitcoin (Direct)
Extra Features: Rent Referrals, Premium Membership
BTCClicks.com, another PTC site since 2013, pays 3 Satoshi ~10 Satoshi per ad. These rewards can be doubled with the purchase of the premium membership which cost as low as 0.00081 BTC for 30 days duration. Besides, referrals can be rented for the duration of 7, 15 or 30 days at 45 Satoshi per refer/day. The withdrawal threshold is set at 0.0001 Bitcoin and withdrawals are made directly.
DOGE Click Network (Telegram)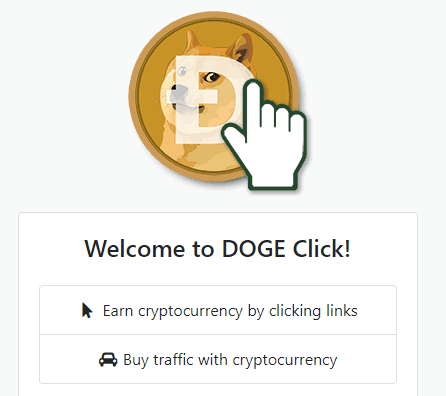 Cryptocurrency: Bitcoin, Bitcoin Cash, Litecoin, Dogecoin, zCash
Payout per Ad: unknown
Withdrawal Threshold: 3,000 Satoshi (Bitcoin), 0.0001 BCH (Bitcoin Cash), 0.0004 LTC (Litecoin), 5 DOGE (Dogecoin), 0.00035 ZEC (zCash)
Extra Features: Earn through messaging Telegram Bots and joining chats
Unlike all other above PTC sites, DOGE Click network is based on Telegram and has several cryptocurrencies integrated (Bitcoin, Litecoin, Dogecoin, zCash, Bitcoin Cash). Each cryptocurrency has an own Telegram Bot where you can visit sites, message bots or join chats to receive cryptocurrencies. The withdrawals are made directly to the cryptocurrency address; the withdrawal thresholds can be found above. Although the owners of Telegram falsely flag the originally-created bots as a scam, they are paying as the payment proofs on their site corroborate this.
Links to the Telegram Bots