Earning plenty Satoshis on Bitcoin Faucets have been difficult nowadays. Until I hit Cointiply. For a long time, I didn't pay attention to them because I had thought it was another regular faucet. In fact, it was but one thing that impressed me was the unusual high payouts. Claiming straight away at the faucet gives you at least 22 Satoshis. Watching PTC ads, chatting in the chatbox and doing PTC ads can not only increase the base reward of the faucet but your overall earnings.
Honestly, these things seem too good to be true. Therefore, I decided to make a detailed review of Cointiply.
Details
Name: Cointiply
Company: 3DAH
Launch Date: February 2018
Withdrawal Methods: Bitcoin, Dogecoin
Withdrawal Thresholds: 30,000 Coins (for DOGE withdrawals), 50,000 Coins (for BTC withdrawals)
Referral Commission: 25% (Faucet claims), 10% (Offer wall earnings)
What is Cointiply?
Cointiply is a reliable cryptocurrency faucet used by millions of users. Originally, known for the now-defunct bitcoin mining game, it's probably one of the highest paying and legit faucets out there. According to Cointiply, more than $700,000 have been paid to its users since their launch in 2018.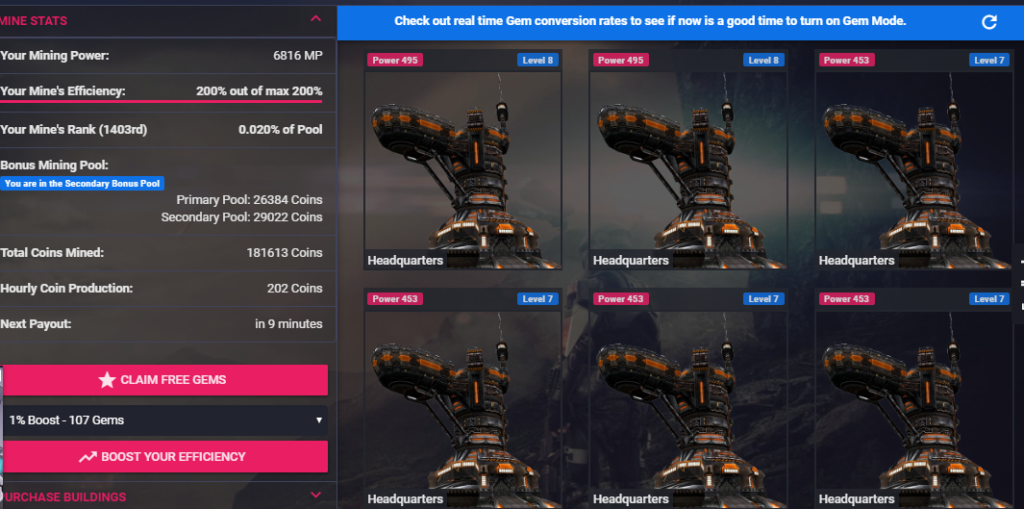 Get Started With Cointiply
First of all, please sign up or log in on Cointiply. After that, you will be guided through the platform. Once you completed the guide, you can start claiming your very first coins on the faucet. To do so, please go to Earn Coins and Roll your Faucet. There, you have to solve the captcha and your first coins will drop into your account straight away.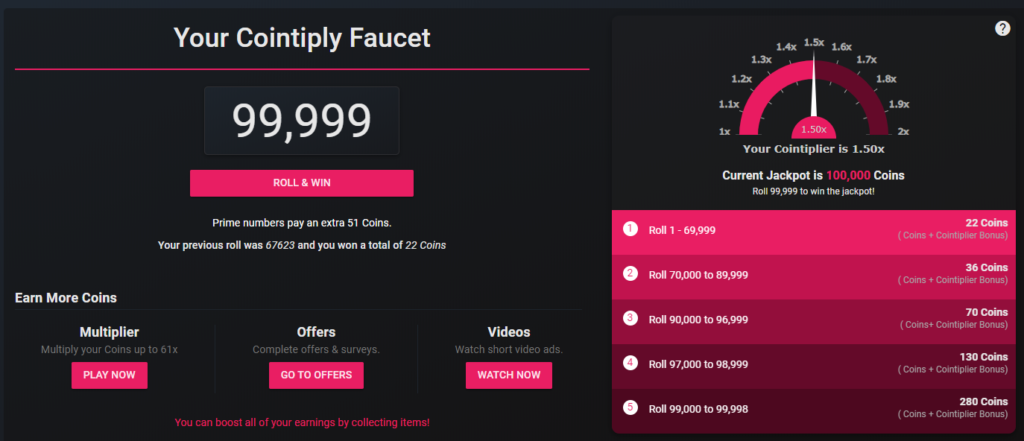 You may have noticed the right side bar, the so-called Cointiplier. In one of my blog post, I already wrote about Cointiplier. But I will explain it again what it really is.
Cointiplier can boost your earnings whenever you make a faucet claim. The multiplier depends on several factors regarding your activity, e.g. if you watch a lot of PTC ads, do offer walls tasks, watch videos, play Multiplier-game etc. The rule of thumbs is if you do much of the said activities, your Cointiply will increase significantly. However, with stagnating activity, it will have a negative impact on the Cointiplier.
Moreover, if you keep claiming steadily every day from the faucet, your loyalty bonus will increase by 1% every day. However, this bonus resets if you miss one day claiming from the faucet and you have to start at 0% again.
Other Ways To Earn Coins
Whenever I read the question on how can I earn Coins on the platform, I'll answer always with offer walls or faucet. In fact, offer walls is probably an excellent way to make a living from them. Still, there are other ways to earn coins on the platform which I'll point out in the following.
Doing Offer Walls
Currently, Cointiply has over 20 offer wall providers integrated into their platform and I am certainly sure you'll find a suitable task & offer in one of these offer walls. If you're still clueless, you can take a look at the description & details of the provider. These reveal whether it's suitable for you and some tips for the particular offer wall.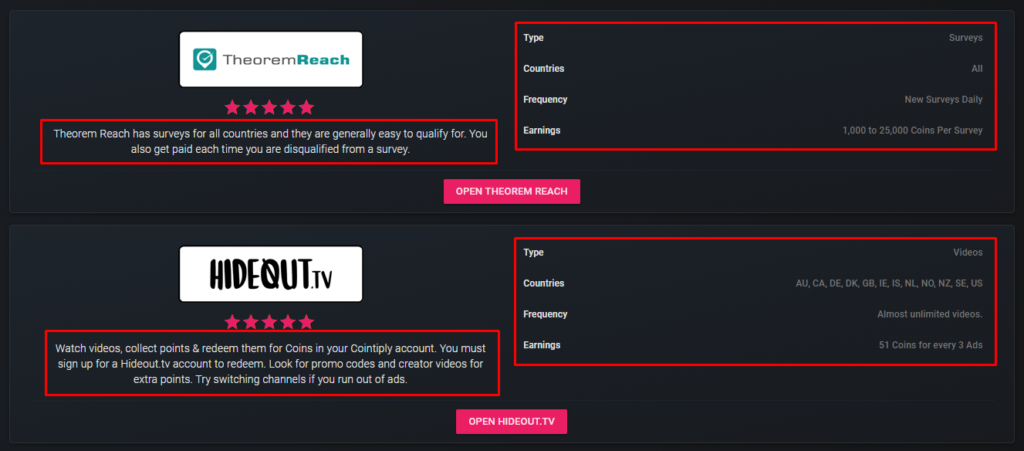 Moreover, you can also take a glimpse at the featured offer walls or at the Hot Offer Walls on the Dashboard page.
Watching Videos
Personally, I haven't tried this out but it's also a profitable way if you watch videos from specific providers, such as Hideout and Videfox. You can watch the videos passively while doing another task. A disadvantage is that few providers restrict the user base for selected countries.
Playing Games
Well, you can also earn coins while playing your favourite games. However, I simply don't recommend it for doing longer time, as you'll receive only 30 coins for each session and a session may take around 10 to 15 minutes. So, if you simply want to have some fun, feel free to play games, but I'd prefer using other ways to earn coins on Cointiply.
Surfing PTC Ads
Honestly, that's my personal favourite since some ads can bring you easy 60 Coins just by watching a website for 40 seconds. In general, you will find about 30 to 40 ads with a total reward ranging from 200 to 400 Coins daily.
Playing the Multiplier Game
Besides, you will also find a Multiplier Game which is similar to the Minesweeper game. There, you have to place a bet and then the game will start: You click on a circle and upon clicking, it will reveal either an orange crystal or dark crystal. An orange crystal brings you coins and you can decide to take the win or continue clicking on circles. A dark crystal ends the game and you will lose your placed bet.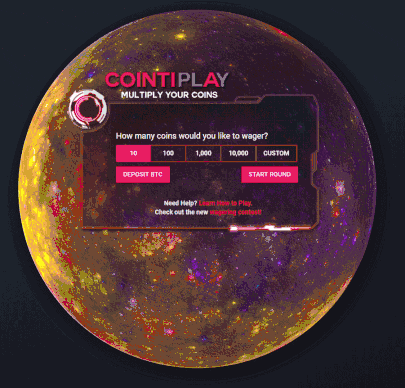 Earning Interest
It's also possible to earn 5% annual interest on top of your coins. This only applies if you have a balance above 35,000 coins. If you haven't that much, you can also deposit some Bitcoins into your account using the deposit feature. In order to benefit from earning interest is to turn on the interest feature in the settings and voilà you'll start earning interests!

Miscellaneous
I'm fairly sure there are more methods to earn coins on Cointiply. The above listed are the ones who seem obvious to start off earning coins on the platform. Nevertheless, there is an ultimate, most profitable way to increase your earnings of Cointiply which I personally found out very late.
Referral System
Cointiply offers a generous 25% lifetime referral commission on faucet claims and 10% referral commission on offer wall earnings. Referral earnings are paid on a daily basis.
Is It Legit?
Within my research, I found out that a company named 3DAH is behind Cointiply. In my further research about 3DAH, I didn't found any information. However, I assume that they're located in the USA since they wrote some policies to comply with USA's regulation. Moreover, the WHOIS data also didn't return anything useful. Lastly, I tried to reach out to their support, however, they refused to give a reply.
Nevertheless, there have been already countless reviews & proofs that they're legit. For instance, they got 4.4 stars on Google Play and 4.5 stars on Trustpilot. Also, FoxyRating labelled them as legit.
Is Cointiply Paying?
Of course, they pay, every time I researched about Cointiply, I found always proofs they're paying. FoxyRating recorded dozens of payment proofs by many users. I have also requested a withdrawal request on my own and it has been going through smoothly.

Please note that you can start withdrawing your coins starting from 30,000 Coins for Dogecoin withdrawals and 50,000 Coins for Bitcoin withdrawals.
Final Thoughts
Cointiply is one of the highest-paying and legit earning site in the crypto-sphere. The possibilities to earn coins on the platform is enormous and varied. For anyone, there is surely a matching option to earn coins. Furthermore, you don't have to be afraid of the high withdrawal threshold or whether they pay. It's easy to reach the threshold and they pay swiftly into your wallet.
Personally, I earned merely my coins through surveys and offer walls. Not to mention, the other ways were also highly profitable – be it the Faucet or PTC Ads. And to be honest, Cointiply is the highest paying faucet I ever used since I joined the crypto-sphere.
P.S.: If you want to know how to maximize your earnings on Cointiply with a secret tip, please do a favour and bookmark this page 🙂