Still struggling to earn coins on Cointiply? Many new members of Cointiply find it difficult to earn their very first coins there. Indeed, it isn't that difficult as you may think right now. Cointiply offers a range of features to collect coins in an easy way. In this guide, you will learn how to increase Cointiply earnings.
The tips listed below are sorted from the highest to lowest profitability.

Buy Pods and Equip Items
Before talking about earning your first coins. It is necessary to know Pods and Items. These are useful when you want to earn a lot in a short period as they give a boost.
These items can increase your earnings by 10% or more on top of your earnings and shouldn't be avoided at all.
Since many aren't aware of Pods and Items, let me explain where you can get these. Pods can be compared with loot which gives random items. Currently, you will find three different pods that give out common items, uncommon items and rare items. The rarer an item is, the higher is the boost you get. You can buy pods with Coins or CointiPoints. I'd suggest buying with CointiPoints as they have no other purpose.
Furthermore, you'll find two kinds of items: Consumable and Equippable. Consumable items only last for a given period. On the other hand, equipable items last forever and never expires.
The number of items you can equip or consume depends on your level. At the lowest level, you can only consume and equip one item. A higher level allows you to equip four items and consume eight items.
My advice to you: Buy very early Pods and consume or equip items to increase Cointiply earnings effectively.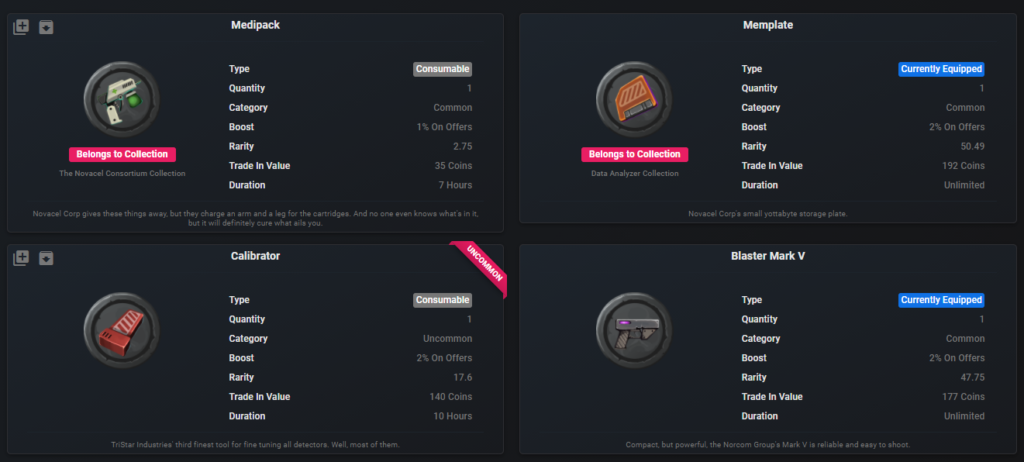 Do Surveys
Doing surveys is one of the most profitable way to increase Cointiply earnings. Cointiply offers a lot of surveys you can choose from.
However, you should know that a few survey providers, like Theoremreach, retrieve surveys from third-party survey providers. These pay effectively much lower than doing them directly. Luckily, you can find that third-party survey provider also on Cointiply, in this case, YourSurveys.
My advice to you: Prioritize surveys from YourSurveys for the greatest profitability.
Complete Tasks from Offer walls
You will find many offer wall providers on Cointiply. Each of these provides different tasks to complete, such as joining a giveaway or answering a quiz. You will find surely a task that fits you.
Please note that you might see only popular offer walls when clicking on Offer Walls. In fact, you will find many more if you click on "Show All Offer Walls". The list is sorted by profitability and rating.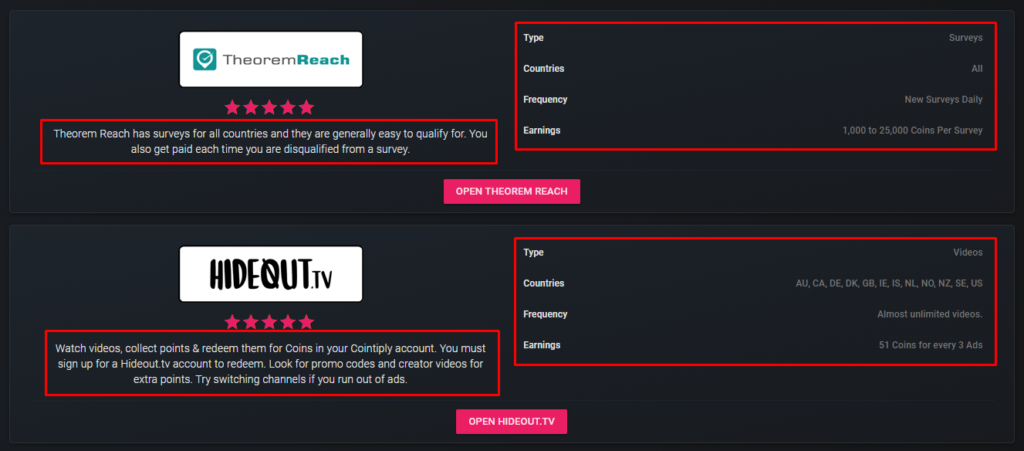 Moreover, the description and information on the Offer walls page help you find your suitable offer walls, such as the availability for your country and reward.
Last but not least, on the dashboard page you'll find the hottest offer walls right now.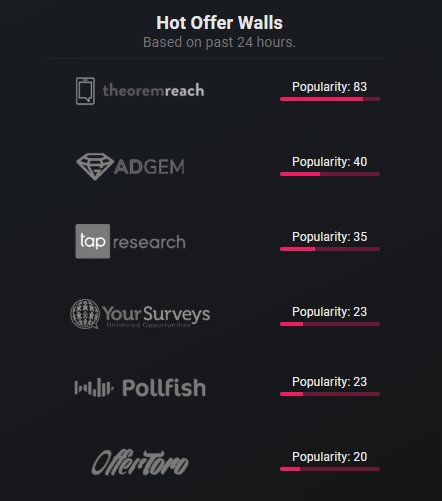 My advice to you: Pick up offer walls that are listed on top and search for suitable tasks. Don't forget to read the description and information to find matching offer walls.
Install Mobile Apps
You'll not only find surveys but also tasks to install mobile apps. In particular, you have to install a mobile app and complete the given task within the given period. Upon completing the task, a lot of coins are awaiting you.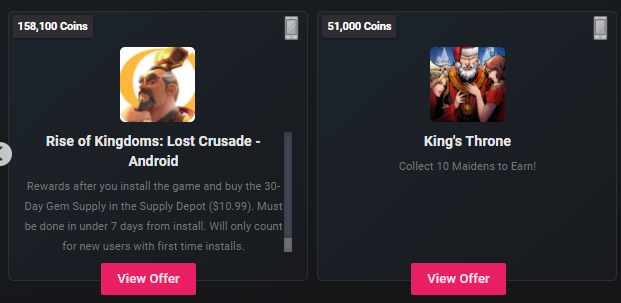 Finally, this doesn't serve you only some coins, but also some enjoyment playing the game.
My advice to you: Install mobile apps and complete the given task to increase your Cointiply earnings. Use guides for the game when necessary.
P.S.: Make sure to install Cointiply's mobile app for extra 500 coins when I'm already talking about mobile apps.
Qualify for the Chat Rain Pool
After talking a lot about surveys and offer walls, you should definitely know the Rain pool of Cointiply. Let me explain how does that work and how you can profit the most from.
First of all, you may have noticed Cointiply's chat and maybe the rain pool. The rain pool fills with coins from time to time, whether randomly or through donating. When the rain pool is full, you can see it using the full raindrop, when the rain pool will be distributed to qualified users.
One problem many face is that they believe chatting is sufficient to qualify. This is the wrong way.
In order to qualify for the rain pool, you must have completed at least one task, such as viewing a PTC ad, doing surveys or offer walls. Moreover, you must also chat until you see a percentage cut from your rain pool.

You may ask you can increase your share. That's simple. Level up, do more surveys and tasks from Cointiply. These will give you a really high share from the rain pool.
My advice to you: Qualify for the rain pool after you have completed large tasks, such as answering a survey. Also, continue to qualify for the rain pool from time to time until your share drops. Finally, use coins from Chat rains to buy Pods.
Watch PTC ads
Every day, you can earn about 300 coins from viewing PTC ads. Simply click on PTC ads and on View PTC ads. There you'll find a couple of PTC ads that dispenses rewards from five to 20 coins.
My advice to you: Click on the button View Top Paying Ad on the upper-right side to watch the most profitable available advertisement.
Claim from the Faucet
Every hour, you can claim many coins from the faucet. The lowest reward you can claim is 22 coins, up to 280 coins (assuming you have the standard Cointiplier of 1.50x).
The so-called Cointiplier determines your hourly reward from the faucet. Generally, your Cointiplier is set at 1.50x. However, with increasing or decreasing activity, your Cointiplier will also increase or decrease and so your reward.
Do tasks, such as refering new users, watching videos or doing surveys, etc…, to increase your Cointiplier.
With much luck, you'll get more if you hit a prime number or even the jackpot. Then, the reward is much higher than you would get initially.
Finally, you can build a loyalty bonus by claiming every day from the faucet. Every day you are in streak, will get a 1% bonus on your faucet claim.
Miscellanous things you can do to increase Cointiply earnings
There are other things you can do to increase Cointiply earnings. These aren't profitable like the above ones, but still worth trying out.
Firstly, be sure to check out their Twitter page regularly as they announce promotional codes you can redeem or any events.
Secondly, you can play some browser-based games and earn coins in the meantime. You can find it under Earn Coins and Play Games.
Thirdly, you can also watch some videos and earn coins. However, only selected countries are eligible to watch high-paying videos. That's why it isn't listed above. If you live in one of the selected countries. Be sure to try out this feature!
Finally, Cointiply launches occasionally events with a 7% bonus on all earnings. They usually take place in summer or winter.
Final Thoughts
Cointiply offers various ways to earn many coins. However, many users, especially new users, aren't aware of many features. The above-mentioned tips should give you an insight into how you can earn a lot of coins on Cointiply. I personally used all these tips & methods and earned alone $5 on a day with Cointiply.
I also wrote a general review of Cointiply and the company behind it. Feel free to read it if you're unsure about using this site. Otherwise, if you haven't joined Cointiply, you can do so here.
If you have any other tips or methods, be sure to leave a comment, so I'll add these here.