Two months ago, I discovered a site named HoneyGain where users are getting paid for sharing their network bandwidth. Amongst other related-sites, HoneyGain is probably one of the leading sites in the industry out of nowhere.
The site promises a sign-up bonus of $5 and two profitable ways of earning bucks through sharing bandwidth. Nevertheless, is it worth the time using the site or is it just another one who delivers empty promises? In the following, I'll make a detailed review of HoneyGain
Details
Name: HoneyGain
Website: https://honeygain.com
Launch Date: May 2019
Sign-Up Bonus: $5
Payment: $0.10 per GB and/or $0.01 per hour using active Content Delivery
Withdrawal Method: PayPal
Withdrawal Threshold: $20
Referral Commission: 10% of your referred user earnings
What is HoneyGain
HoneyGain is an earning website which allows users to earn an income by sharing their unused resources (e.g. internet bandwidth, storage). Users have to download the application which is available on various devices, e.g. Android, Windows, macOS).
In accordance with HoneyGain, the bandwidth is used by researchers from various sectors, such as e-commerce, advertising and web intelligence. They use it for SEO monitoring, brand protection, market research and many more to make the internet a safer place for all.
How To Get Started with HoneyGain
First of all, please visit the site of HoneyGain. I prefer to use this link as you'll receive a sign-up bonus of $5 upon registration. On the page, you have to register firstly using your email. After that, you will be prompted to download the HoneyGain for your desired device. As mentioned above, HoneyGain is running on Windows, Android and macOS.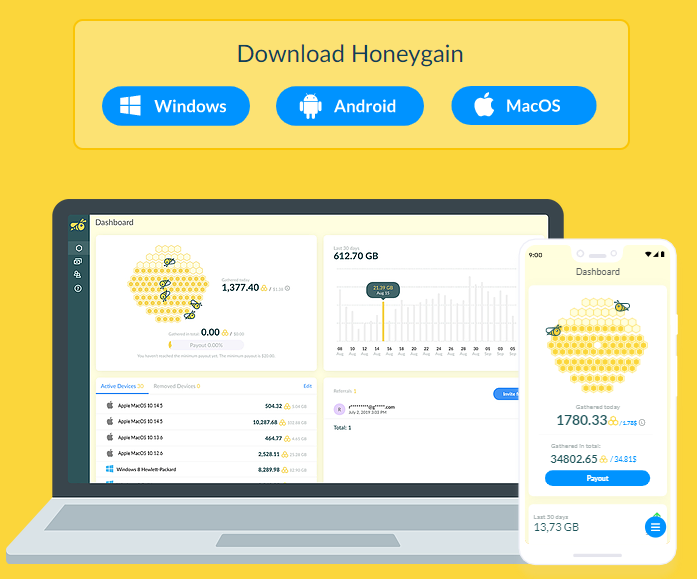 Upon installing the application, the app asks you to enable Content Delivery. Content Delivery is an additional way to earn Credits. So, if you want to boost your earnings, feel free to enable it. Below, I'll explain what Content Delivery really is and why it's so profitable.
Once you configured the application, you will start earning credits from the very first minute. These credits can be converted to real money later once you reached $20 balance. You may download the applications on other devices as well to earn much more. However, please note that only two devices per IP are allowed.
Two Ways to Earn Credits on HoneyGain
Unlike other platforms, HoneyGain offers two ways to earn credits: Default Network Sharing and Content Delivery. In the following, I'll explain these two types of earning and their profitability.
Default Network Sharing
In times of expanding digital infrastructure, internet bandwidth becomes enormous every day. Therefore, many users can't use their whole internet bandwidth most of the time. Therefore, HoneyGain allows, as its heading indicates, to share available network resources to them.
Crucial to share network resources is a stable connection. So, if you have an internet speed of 50 MBits or greater, then you can make a decent side-income from your internet plan.
Please note that the earnings are dependend not only on your internet speed, but also on other factors, e.g. your location and device.
Profitability: Using Network Sharing, you'll earn 1 credit for every 10 MB shared which is equivalent to $0.001.
Content Delivery
Moreover, you can also earn credits through Content Delivery. Hereby, the HoneyGain uses not only your internet bandwidth but also your disk space. Reason for that is Content Delivery provides to end-users bandwidth-intensive content (e.g. images, videos, audios etc). Because Content Delivery is very profitable, not everybody is able to participate in. This means, although you meet the requirements, you will be queued Moreover, it is only available to a few countries. Below, you can see the requirements.
Requirements
Your IP is not part of a Data Center, please use a residential IP Address
Reside in the following countries: Spain, Italy, Romania, Portugal, Belgium, Denmark, Norway, Sweden, Mexico, Argentina, Canada, Australia, New Zealand, the United States of America, the United Kingdom, Finland, France, Germany, India, Switzerland, Singapore, Japan, and the Netherlands
More countries will come by the time according to their website.
Profitability: 6 credits every hour (equivalent to $0.006) / 10 credits every hour during the beta phase (equivalent to $0.01)
Is It Legit?
HoneyGain is legit and paying. More than 10,000 users are already earning with HoneyGain. Besides that, they have a strong social media presence on Facebook, Twitter and Instagram to aim a strong link to its users
Below, you'll find some payment proofs by users.
Despite they're paying and legit, it remains unknown where they're located since their company information isn't public nor the WHOIS query doesn't return any helpful information. Furthermore, some users are frustrated by noticing a drop in their earnings regularly. They claim they earned a significant amount months ago, while they earn cents now.
Possible Risks Using HoneyGain
As always there are risks using such sites where you share your resources with someone you can't fully trust. First of all, you share your bandwidth to a company who, in turn, let unknown strangers use its network. Although HoneyGain specified clearly the aim, there is always someone who abuse the network for their own profit. Personally, I experienced once that my computer's CPU usage spiked to around 80% due to the HoneyGain application. This indicates that someone successfully abused the HoneyGain network to mine cryptocurrencies.
Moreover, a reddit user pointed out that HoneyGain serves shady, untrustworthy, even illegal websites, e.g. phising, porn and malware sites.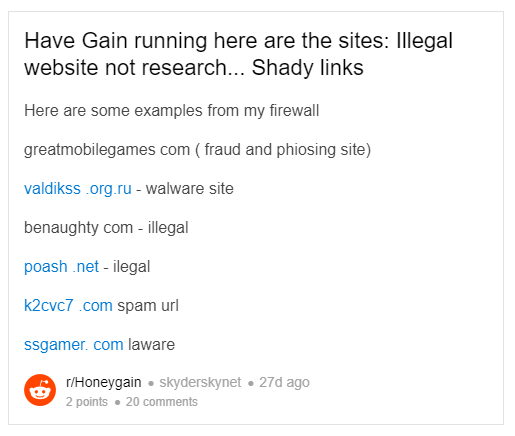 Since you're responsible what's happening on your network, you may get in trouble by the goverment if someone abuses your network for illegal activites. Especially, with the Content Delivery you might host illegal files on your computer.
Finally, the application provided by HoneyGain is safe to download. VirusTotal reports that it couldn't find anything suspicious.

My Two-Months Experience
I've been using HoneyGain for two months and I have to say that I could make a few bucks. However, my earnings are really low compared to other users who use HoneyGain, but this doesn't mean you also earn lowly. The earnings depend on the location and I might be unlucky as an European.
During the two months, I made about $6.46 mainly through the Default Network Sharing; earning through Content Delivery happened rarely although my computer is running around eight hours a day.
---
Final Thoughts
To sum up, it can be said that HoneyGain is a legit and paying GPT site where many users get rewarded huge by participating in the network. Nevertheless, for some countries the earnings are low and the use of HoneyGain mitigates the problem of serving unknown strangers which may abuse the network. Additionally, it is unknown in which the country the company operates.
All in all, I'd recommend HoneyGain because, on the one hand, they take care of the customers by informing their users regularly on their blog and social media networks. On the other hand, countless people are in favour of the service.
Also, if you want to maximize your HoneyGain earnings, you should take a look at this guide here.