CryptoWin is one of the high-paying Bitcoin Faucets out there. Based on FaucetPay's figure, an average user earned $1 from them. In total, they paid out $1900 today. But is it true that users are earning much there?
In this review, I'll examine CryptoWin and the opportunities to earn Bitcoin here.
Details
Name: CryptoWin.io
Website: https://cryptowin.io
Minimum withdrawal: at least 100 Satoshi to FaucetPay, 10,000 Satoshi for direct withdrawal
Withdrawal Types: Direct, FaucetPay
Referral commissions: yes, between 1% and 50% (see below for more)
What is CryptoWin?
CryptoWin is a typical Bitcoin Faucet that allows you to earn Bitcoin whenever you make a claim by solving a captcha. In addition, you will find a offer wall to earn more Bitcoin by downloading mobile apps, surveys, etc. Finally, they integrated a Hi-Lo Game, Lottery and an option to earn interest using Revenue Shares.
Faucet
You can claim 1 to 6 Satoshi every 15 minutes using the Faucet. So, you can earn between 4 and 60 Satoshi an hour with them.

But if that's not enough, then you should consider looking for the offer walls.
Offer Walls
Offer walls are a way to maximize your earnings on CryptoWin. Hereby, you can do surveys, install mobile apps or games and complete them to a certain level. Once done, you're getting rewarded hugely.
They provide offer walls from different providers, such as CPX Research, WannAds (Survey), AdGateMedia and Kiwiwall.
It's worth mentioning that your earnings will be converted from USD to CryptoCoin upon completion. These can be redeemed to Satoshi after 5 days from 100 CryptoCoins.
My Tip: Usually, AdGateMedia and KiwiWall provide the best offers.
Hi-Lo Game
Once you accumulated enough Satoshi, you can gamble them at the Hi-Lo Game. Hereby, you bet if you're going to hit high or low.

If you're tired of manually hitting the buttons, you can also do it automatically. Simply go to the Auto tab. Here, you will find options, such as the number of bets and what to do on loss/win. That's sufficient to apply the Martingale strategy.

It's worth noting that you can make 4750x of your initial bet here! So, 1 Satoshi results in 4750 Satoshi if you set the payout in that way.
Please note that using the Hi-Lo game is subject to losing all your balance. Only spend what you can afford to lose.
Lottery
The lottery is the next game of CryptoWin. Here, you can buy tickets and participate in the weekly lottery. One ticket costs one Satoshi and there are three winners each week.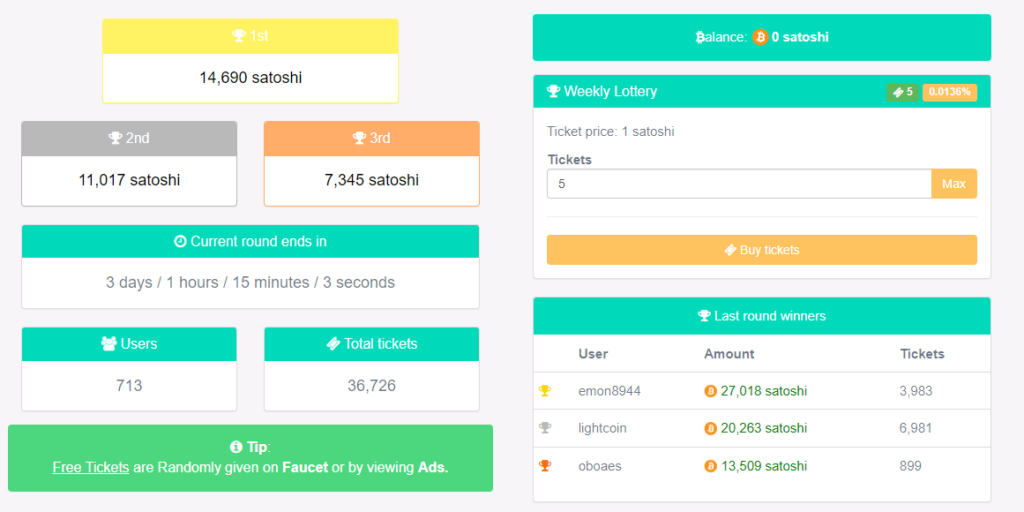 In each round, you can see the tickets in the pot, the number of users and the estimated prizes. Also, on the right side, you can see your chance to win the lottery. In my case, it's 0.0136%. You can increase the chance by buying more tickets.
Revenue Share
The most promising part is the Revenue Share of CryptoWin. Here, you can buy shares for 1000 Satoshi and earn 7 Satoshi (0.7%) every day for 180 days.
In total, you're going to make a 126% (1260 Satoshi) return on your initial investment!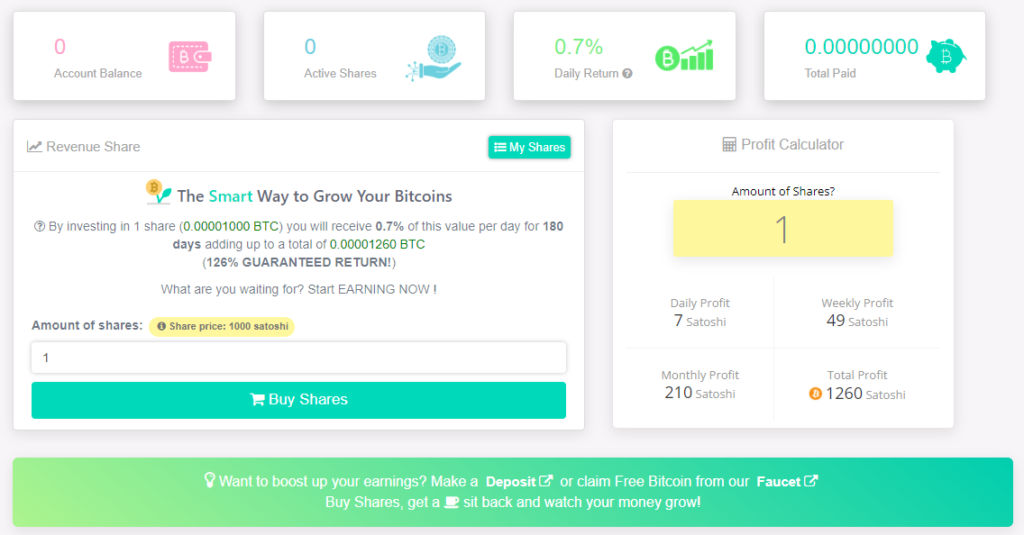 While this might look promising at first glance. that's still a high APY of 255,5%. According to CryptoWin, they use the funds for capital investments, such as advertising networks, in-site advertising, NFT trading and affiliate programs/products.
Furthermore, earnings from shares are paid out at midnight at 00:00 UTC. Finally, they also offer to make a deposit, either on-chain or through FaucetPay. This allows you to buy shares then.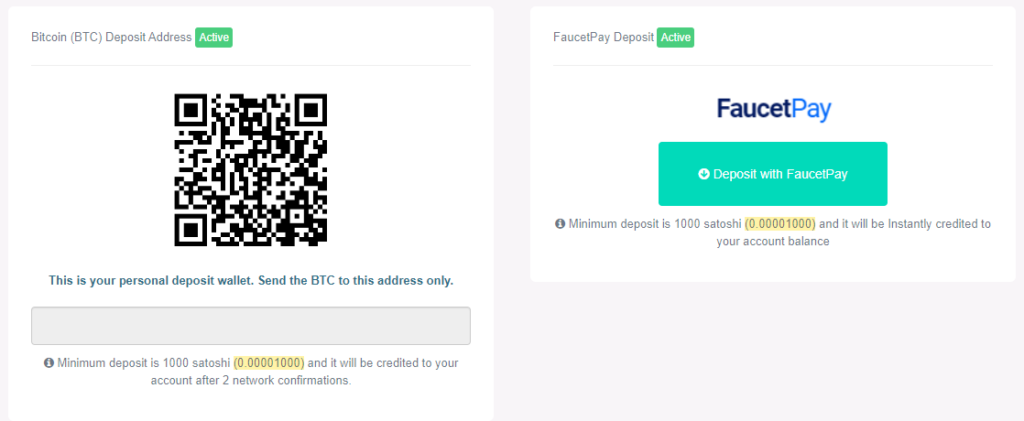 You'll find this option under your username and Deposit.
Affiliate programme
They also offer an affiliate program with commissions starting from 1% to 50%. A table of all commissions is listed below.
| | |
| --- | --- |
| Type | Commission |
| Faucet | 50% each time your referral claims from the faucet |
| Invest/Shares | 1% from every share which your referral buys |
| Offerwall | 10% from every Offer/Survey/Quiz your referral is completing |
Referral Commissions of CryptoWin
Payment Proof
It's also worth seeing if CryptoWin pays out to its users. In fact, I already received payments from them several times.

On Trustpilot, CryptoWin is ranked 4.6 stars. In addition, it's labelled as a high-risk investment there.
Final Thoughts & Tip for CryptoWin
CryptoWin is one of the highest-paying, established faucets out there. They offer sufficient options to earn Bitcoin, such as offer walls, Lottery, Hi-Lo and Revenue Share.
While the reward for the faucet seems pretty low, you can simply decide to do tasks on the offer wall that maximize your earnings. Those looking to invest may consider the Revenue Share, which offers 0.7% daily on the investment.
If you're looking for a passive income otherwise, take a look at Pawns App or HoneyGain which allows you to earn for sharing your bandwidth.