Are you looking for a reliable source where you can find anything about making money online? Then you should get to know BeerMoneyForum – the place no one to earn money online. There you'll find anything that you need to start earning your first pennies or even dollars. If that's not enough, you can also earn coins just by posting which you can redeem later.
Details
Name: BeerMoneyForum
Website: https://beermoneyforum.com
Withdrawal Threshold: 2,000 BMF ($2)
Withdrawal Methods: Bitcoin, Payeer, Perfect Money, Skrill, etc …
Get Started With BeerMoneyForum
To enjoy the benefits of BeerMoneyForum, you should create an account there. You can do so here. The registration on Beermoneyforum allows you to view as many threads as you want without any restriction. In addition, you will receive BMF Points – the currency there – for your daily activity.
Moreover, make sure to complete your account progress to receive some free BMF points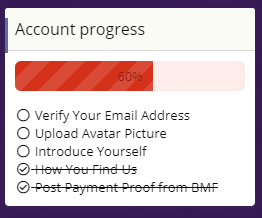 What makes BeerMoneyForum so special?
To this question, there are several points that contributes to the success of Beermoneyforum which I'll point out in the following
Reason No. 1: Tons of Reviews
If you want to verify whether a particular site (crypto faucet, GPT site) is legitimate, then you'll surely find some reviews on Beermoneyforum.
Let's take for example GetDoge.io. Even before clicking on the thread, you will get to know whether the site is legit, new or just a scam. This is labelled by the moderators of BeerMoneyForum and is always set according to the latest reviews. Secondly, the thread of GetDoge just started in September 2020 and until then you will find 10 pages filled with payment proofs and miscellaneous.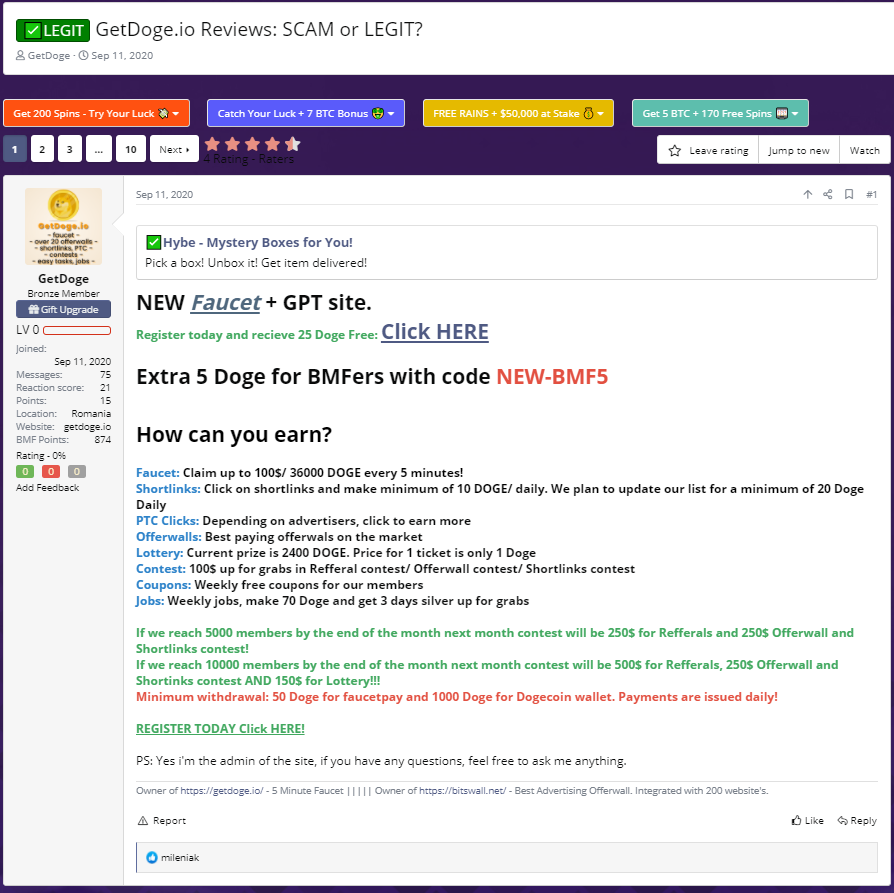 Reason No. 2: Variety of topics you find there
To be honest, you'll find on Beermoneyforum anything you need. Be it crypto, GPT or even starting your own website. Some of them are reviews of sites, some others are guides, tutorials or simply a discussion. Besides, finding the right thread is also easy, thanks to the labels.
To be honest, the probability that you find something here regarding a speciific site, let's say PTC site, is really high. Personally, I even used Beermoneyforum mostly for my research to verify the legitimacy of a particular site.
Reason No. 3: The BMF Points Currency
I believe that BMF Points contributed to the success of Beermoneyforum. On the one hand, it incentivizes users to look for relevant threads and share their experience or answers in them. One the other hand, users who require such information will find it. This establishes a forum where users help each other and earn together.
What can I do with BMF Points?
I think you are wondering what you can do with BMF Points. There are multiple ways of spending them.
Firstly, you can redeem your BMF Points to money anytime. Hereby, you can decide between different payout methods, such as PayPal, Payeer, Perfect Money, Skrill and Bitcoin. Please note that the minimum amount to withdraw is $2 which equals to 2000 BMF Points.
Secondly, you can access with BMF Points paid contents. You will find a few paid contents under tutorials.
Thirdly, you can also support others content by liking their posts, which deducts BMF points, or donate directly other users.
How can I get those BMF Points?
There are multiple ways to get BMF Points. Being active daily is just one of them.
You can collect BMF points for drafting new posts, opening new threads, offer paid contents or refer people. Besides, you can get BMF points by reporting posts to make the forum a cleaner place.
Also, a lot of people are looking for someone who pays BMF points in return.
Sometimes, you will find campaigns that give away BMF points for certain tasks, such as referral contest, raffles or anything else.
Finally, you can use Beermoneyforum's partner site BeerSurveys.com to complete a few surveys for BMF points.
Does BeerMoneyForum even pay?
Obviously, they pay their users. Otherwise it would be hypocritical if they didn't pay their users as a review site. Below, you will find some recent payment proofs from users who received an payment from Beermoneyforum.
Final Thoughts
BeerMoneyForum is the leading forum site out there specialized in making money online. it covers a variety of topics, such as cryptocurrency, investment or GPT. Unlike other forums, they also incentivize users through posting. This results in the availability of the right information. Furthermore, Beermoneyforum helps users to share their experiences with sites, e.g. the legitimacy or paying status.
Personally, I used Beermoneyforum to research payment proofs and the trusts of a site I review in my blog here.