Earning money while surfing. It sounds ridiculous but Brave Browser make this happen. Brave Browser is unlike all other traditional browsers the first browser that not only rewards you with crypto with surfing but also disables annoying advertisement in return for Basic Attention Token.
Founded in the year 2017 and raised about $35 million for the BAT token in less than one minute, Brave pioneered to redefine browsing in a confident way. In the video below, Brave demonstrates how their browser works.
Features
Until now, things at Brave have been changed. They brought out their browser, based on the Chromium framework which is significantly faster, with some features that other browsers do not have integrated. One example is the integrated Adblocker. The adblocker simply doesn't block advertisement but also supports websites with BAT. This applies not only to websites but also for Youtube publishers and Twitter accounts and many more.
Moreover, Brave Browser comes with Tor and privacy-focused search engine to let you surf anonymously through the world wide web. There are couple of more brilliant features you can discover here.
How Can I Start Earning Brave Tokens?
There are many ways to claim Brave. One way is through surfing. The other way by having social media accounts (Youtube, Twitter, Github, etc).
Earn BAT with Surfing
First of all, you need to download the Brave Browser. This is available for various platforms including mobile users. You can do it by following this website. There, you can download the application and install it on your device.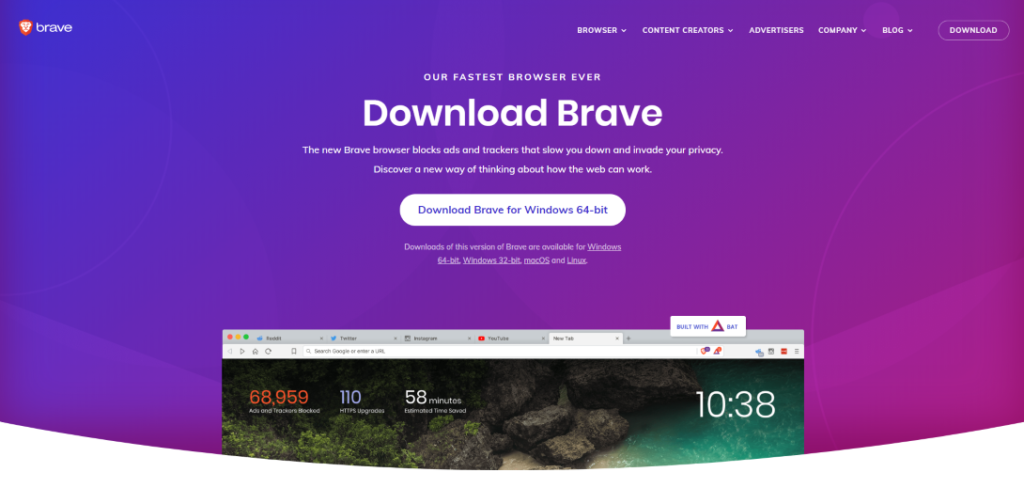 Downloaded and installed, you can open Brave Browser straight away. You will be proceeded through their guide firstly. Please make sure to enable Brave Rewards if they ask!
Once done, you can use the browser to surf the internet. It may take a few days to receive your first BAT tokens (based on my own experience). You'll notice that you earn Brave Rewards by receiving notifications from Brave Browser. Each notification brings 0.1 BAT.
On the 5th of the month, you'll be able to claim your BAT tokens. In the dashboard, you'll get a button which redirects you to Brave Rewards' page. There, you simply solve the CAPTCHA and, then, your account will be filled with coins. 💰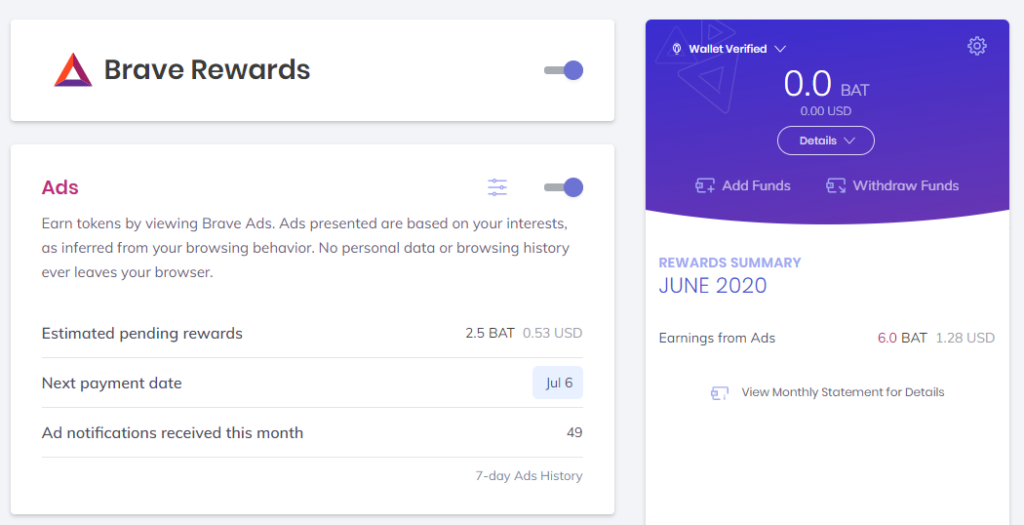 You can tip BAT tokens to websites or users. You can also turn them into real money or Bitcoin. Hereby, you must connect the Brave Wallet with your Uphold.com Wallet (yes, you have to register for this process).
Bonus Tip to Maximize Your Earnings
I'm fairly sure that many users are not aware of how to maximize the earnings with Brave Browser. My tip: Disable Auto-Contributions in Rewards Dashboard, so you won't miss a single BAT ever.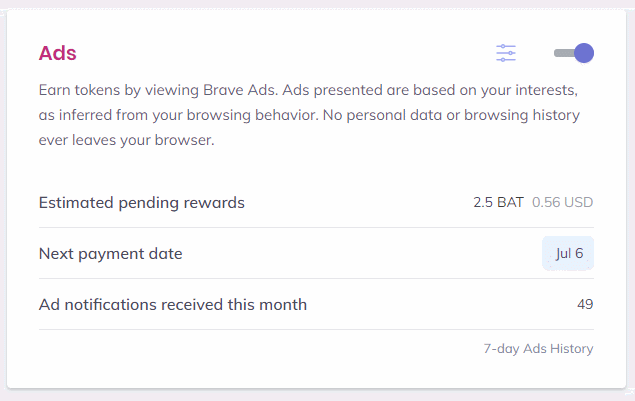 Secondly, since you'll earn BAT for each notification, you can increase the number of shown ads. To do so, please go to the Brave Rewards to the section Ads and click on Ad Settings (the slider icon on the top right). Set the maximum number of ads displayed per hour to five. From now, you enjoy higher earnings using this tip. 😎
Earn Brave Tokens with your Website and Social Media Profiles
A second way to earn BAT is using your websites and social media accounts. As of now, there are seven various channels to earn BAT tokens with.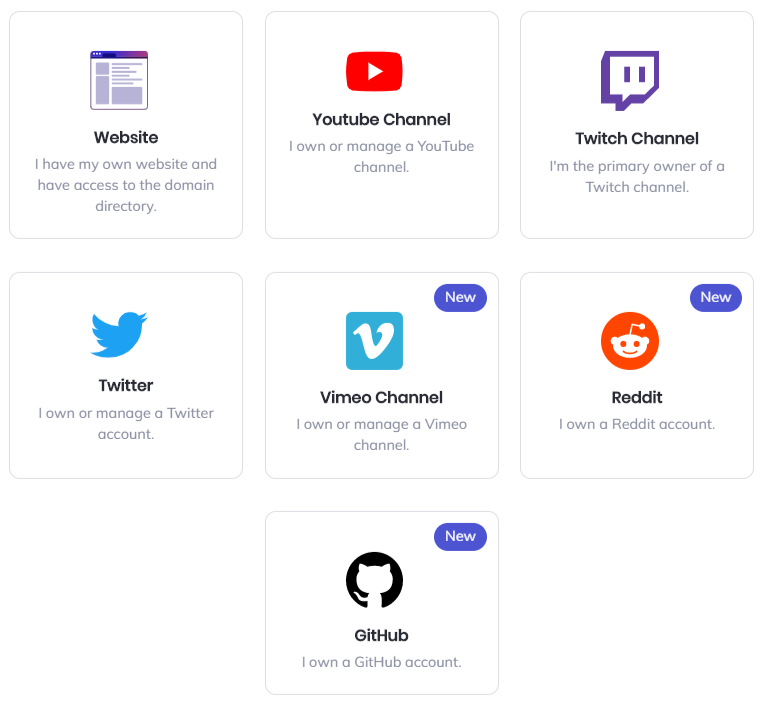 As you can see, more channels have been added to this list. And this list is continuously expanding as Brave plans to add more suitable channels where users publish contents (like Quora).
To start earning with your channels, you have to visit Brave publishers site. There, you must register an account firstly. After that, you can add channels. Moreover, to able to send BAT tokens, you also must create a Uphold.com Wallet and connect it with your Brave's account.
My bonus tip to you: Add many channels as you can to earn a decent side-income if you draft a lot of content on these channels. Moreover, you can enable ads in the dashboard to get higher earnings (available only for website).
Personally, I set up three channels and already earned a few BAT with them.
Earn BAT Tokens By Referring People
Brave also has an integrated referral system. By referring people to use the Brave Browser you can earn up to $7.50. The rewards vary on the residential status of the user. For instance, users from the United States brings the highest amount while many countries can only bring $1.00 in your pickpocket. To apply for the referral program, you have to visit Brave publishers site, create an account there, add a channel and then you will get a referral link.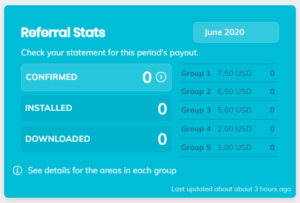 At this site, you can take a look at the rewards.
Please note that you'll earn the reward if the referred user has been using the browser for at least 30 days.
Final Thoughts
Brave allows anyone to earn a decent side income by surfing or drafting the content on social media. From my perspective, I like this concept since I surf a lot and manage various social media profiles and websites. I already earned $3 a month with their browser by using their browser roughly one hour daily and installed the browser on my PC and Laptop to enjoy its perks.
They bring consistently new updates to the platform to improve the experience for the advertisers, publishers and users. For instance, they aim at adding more channels for publishers and adding new ways to earn BAT for the user, e.g. doing specific tasks on websites.