One month ago, IPRoyal Pawns just launched their service which allows anyone to earn money from home. All you need is a PC or Mac and a stable internet bandwidth to start making money from your unused internet resources. Unlike other services, IPRoyal Pawns pays significantly much higher than other does. But do they hold their promise of earning much without much effort?
In this detailed review, I'll clarify whether they do or not.
Details
Name: IPRoyal Pawns
Website: https://pawns.iproyal.com/
Launch Date: January 2021
Payment: $0.20 per shared GB
Referral Commission: 10% from every invited user
Withdrawal Threshold: $5
Withdrawal Methods: PayPal (depending on the country), BTC or Visa Virtual Card; Gift Cards (when doing surveys)
What is IPRoyal Pawns?
IPRoyal Pawns is a GPT website that allows anyone to make a passive income online by sharing their unused bandwidth with them. IPRoyal makes use of this bandwidth for different business cases, such as price analysis, brand protection or Content Delivery. The essential part here is your residential IP which is beneficial for these kinds of use.
How much you can earn from IPRoyal Pawns depends on your internet bandwidth. For example, fast internet bandwidth allows you to share more resources with IPRoyal Pawns. Consequently, your earnings will be higher. However, if your internet bandwidth is slow, you will share and earn lesser with IPRoyal Pawns.
Get Started with IPRoyal Pawns
To start earning money with IPRoyal Pawns, you need to sign up there if you haven't done yet. You can do so here. Upon registration, please log in to the dashboard and click on Download. There, you need to choose your OS to download the software.
Open the application and log in with your login details. Upon logging in, a background process will be initialised. This will take up to three minutes. Once it is initialized, you will see a green message saying the background process is running now. From now, you can minimize the application (don't quit!) and do anything else.
By default, you need to start the application manually when booting up your PC. If you want to run the application automatically on startup, you can do so with a simple trick.
How much can I earn?
Your earnings on IPRoyal Pawns depend on your country, how long you keep the application running and your internet bandwidth speed.
First of all, there is a different demand in every country for your internet bandwidth. In some countries, the demand is high and so your earnings will be. In some others, it's really low. It depends mostly on how your network is used.
Secondly. it's important to keep the application running because this increases your reliability. Otherwise, the provider can't do anything with you when you run the application for 10 minutes a day. It's important to keep the application running for a longer period to benefit from higher earnings.
Thirdly, your earnings also depend on your internet bandwidth speed. Having a slow internet bandwidth won't contribute much to your earnings due to slow loading and high ping time. Moreover, internet bandwidth which is used most of the time is also inefficient.
Instead, have a super-fast internet bandwidth speed which isn't excessively used most of the time. Also, make sure you install the application on a device where the internet bandwidth is stable. I suggest using a wired connection over a wireless connection.
In general, many users report they yield higher earnings than other providers we already reviewed.
What are possible risks when using IPRoyal Pawns?
As always, the use of such services mitigates the risk to share your internet bandwidth with people you don't know.
By looking at the main website of IPRoyal, it might make you think that you share your IP address and bandwidth with any strangers. These may be able to visit malicious, infected or even illegal websites.
However, the admins claim they monitor the traffic for any suspicious, illegal activity. "Pawns traffic and IP is used for our Residential proxies, but we keep monitor of client traffic where they use that and ask clients to identify with password and selfie photos", says one of the admins.
IPRoyal offers services such as sneaker proxies which limit the access using the proxy for selected websites. For the other services, IPRoyals monitors thoroughly which traffic comes in. Below, you will see the different business cases of your IP address & bandwidth.
Nevertheless, there can be always a little chance that someone may abuse your network for something. And, you are responsible for what's going on with your network.
Company Information
While there is no clear information given on the website that operates IPRoyal Pawns, a quick search using social media networks reveals that there are at least two people behind that.
Upon request, one of the admin says that most of the team members operate from Lithuania.
Unlike other companies in this sector, IPRoyal doesn't make a secret where they come from.
Does IPRoyal Pawns even pay?
Yes, they do. Any users who hit the withdrawal threshold of $5 can withdraw their earnings in Bitcoin, to Visa Virtual Card or, if in your country available, to PayPal. In a dedicated Discord channel, dozens of users have already posted their payment proof of IPRoyal Pawns.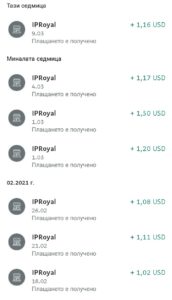 I also got paid from IPRoyal Pawns two times using Paypal. I received the payment on the same day from them.

Surveys
In addition to earning a passive income, you can also earn actively using surveys since June 2021. Users of selected countries may now complete surveys and receive credits in return. These credits can be exchanged to gift cards such as Amazon.
To start earning with surveys, simply log into IPRoyal Pawns and click on Surveys in the sidebar.
Referral Programme
Last but not least, they also offer a referral program with a generous commission of 10%. For every payout of your invited users, you will receive 10% commissions from them. Any commissions will be added to a separate balance which can be withdrawn from $1 to PayPal or Payoneer.
Unlike other sites, they provide the option to generate a custom referral link and an overview of detailed statistics.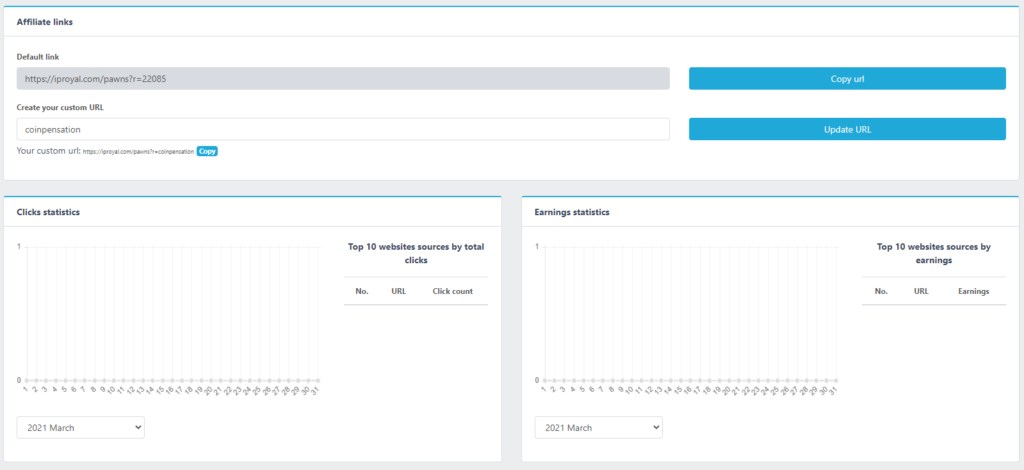 Conclusion
IPRoyal Pawns is a newly-launched GPT website where anyone can earn money by sharing their bandwidth. What IPRoyal Pawns distinguishes from other providers is the low minimum withdrawal and the earning rate. Nevertheless, their business model may be partially controversial and they do not support other devices than Windows or Mac. However, the admins behind the project planned to launch on other OS like Android and Linux within the next months.
I believe IPRoyal Pawns has the potential to become a serious competitor in the industry since the many features outweigh the disadvantages. I'm excited to follow the development of the project.
Be sure to check out other projects, such as HoneyGain which provides a similar experience.