A past few days ago, a new faucet with a unique concept called Point2Ads was launched. Unlike other typical faucets, users collect points instead of cryptos. These will be exchanged for USD every week. The user can then withdraw the distributed USD to Crypto or even Fiat providers. It aims to reduce the common problems faucet owners have to struggle with, such as overpaying.
In the following, I am going to review whether this concept really works out.
Details
Name: Point2Ads
Website: https://www.point2ads.com
Launch Date: 14th July, 2021
Rewards: 50 Points/2 minutes; PTC ads has varying rewards
Minimum Withdrawal: $1
Payment Provider: Bitcoin, Bitcoin Cash, Ethereum and Litecoin to FaucetPay; USD to Payeer and Perfect Money
Get Started With Point2Ads
First of all, sign up on Point2Ads with your desired username and email address. Make sure you don't use a trash-mail whatsoever! Upon registration, you will need to verify your account using the confirmation email. Once done, you can log into your account and claim your very first points.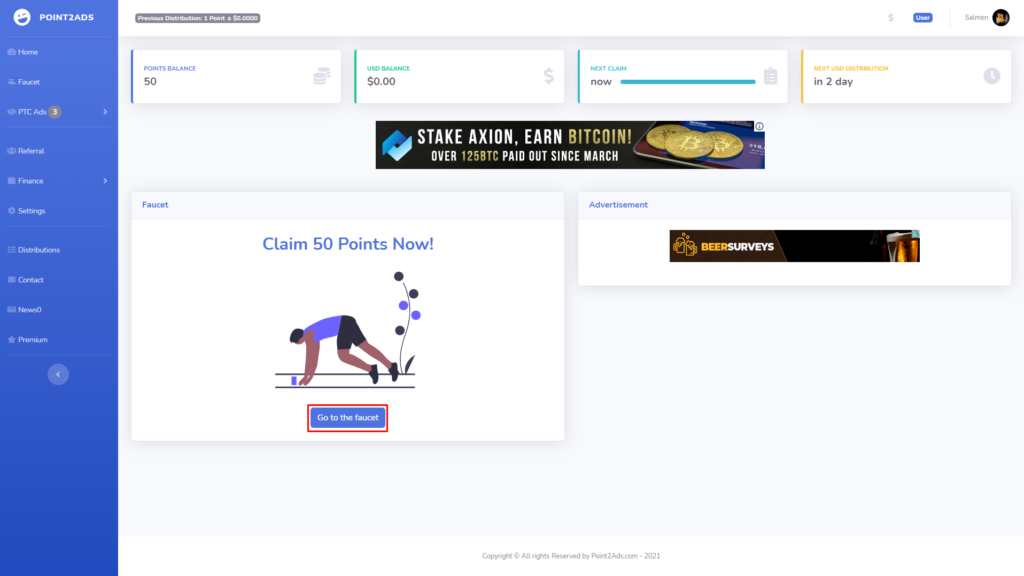 Go to the faucet, pass the first and second captcha. And voila you received your first 50 Points. You can claim at the faucet every two minutes. So take the opportunity and claim consistently.
Earn Points And Advertise with PTC Ads
Tired of these faucet claims I mentioned previously? Then I have great news: You can also claim Points using PTC ads or even advertise on Point2Ads.
Simply choose an available advertisement, click on the View button, view the page for the given time in a new window. After that, pass the captcha and some points are arriving in your wallet.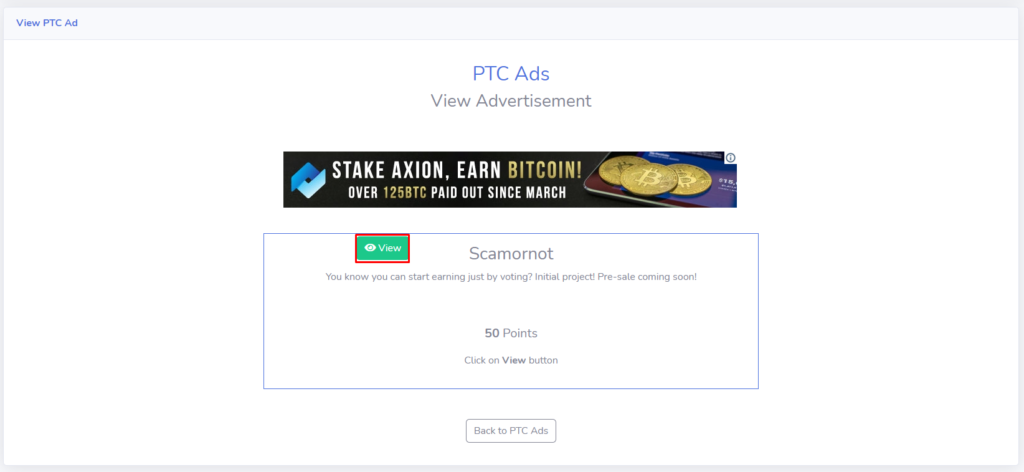 If that isn't enough, you can also advertise your referral links or own pages there. The CPM entry barrier is as low as $0.50.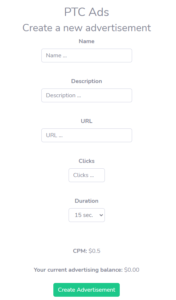 However, you need to top up your advertising balance firstly. You can do this with Crypto or Fiat deposits. The minimum deposit is set at $1.
Boost Your Rewards With A Premium Subscription
If the current rewards at the faucet and PTC don't convince you, then you should consider getting a Premium Membership. Point2Ads offers memberships that boost your faucet and PTC rewards as well as affiliate commissions.
At press time, the premium membership costs $5/mo. You can subscribe using your standard balance (that's what you earn) or advertising balance (you can deposit into it). So there is no need to wait until you got enough USD for the premium membership.
Weekly Distribution of USD at Point2Ads
Point2Ads distributes every week USD to their users. The USD amount the user receives depends on how many points he collected during the week and the total collected points by all users. The distributed USD will be added to the standard balance which can be withdrawn and the Point balance reset.
Let's take an example of how the concept works: User A collected 1,500 Points. User B collected 500 Points. Their share is 75% for User A and 25% for User B. The distributed amount is $25.
Then, User A receives $18.75 and User B $6.25 into their standard balance. After that, their Point balance resets to zero.
Does Point2Ads pay?
Point2ads is paying! I recently requested a withdrawal of $1.80 in Litecoin and received it into my FaucetPay account. See below for proof.

Also, on forums, users are reporting they received a payment from them.
Point2Ads pays their users in Bitcoin, Bitcoin Cash, Litecoin or Ethereum to FaucetPay or USD to Payeer or Perfect Money.
Once a user reached the minimum withdrawal of $1, he can request to withdraw his funds. The request takes 24 to 96 hours until it's processed to your desired withdrawal provider.
Referral Program
Last but not least, Point2Ads offers a generous affiliate program with 25% commission (or 50% with premium) on every user's claim or PTC view. Any points made from a referral will be credited to your Points balance.
Final Conclusion
Point2Ads is a fairly new faucet with a unique concept. Unlike others, users can claim points and take part in the weekly USD distribution where they gather USD to withdraw.
Although they provide very few choices to earn points, you can select between different cryptos & payment providers to withdraw your USD.
Yet, I am convinced that this concept works out both for faucet users & owners since the common problems are reduced, such as payment problems are reduced and receiving payment is guaranteed.
Looking for other faucets? Take a look at the list of the seven best crypto faucets.