Update (9th September 2020): Scam! The site went offline and stopped to pay its users! Check out this list of scam faucets to protect of being scammed again
A newly launched faucet, FreeBitcoinFaucet, promises rewards of up to 22,332 Satoshis. The minimum reward a user can claim is 46 Satoshi. The reward depends on the number the user rolls every 30 minutes.
Because of this huge rewards, this faucet seems to be an oasis for newbies. But do they pay really to their users or is it just another scam faucet?
Details
Name: Free Bitcoin Faucet
Website: https://freebitcoinfaucet.io
Rewards: 46 Satoshi to 22,332 Satoshi every 30 minutes
Withdrawal Method: Direct to the Bitcoin Address
Withdrawal Threshold: 0.00050000 BTC
What is Free Bitcoin Faucet?
Free Bitcoin Faucet is, as its name says, a faucet where users can collect satoshis every 30 minutes for free. These faucets are sponsored through the advertising shown on the website.
Get Started with Free Bitcoin Faucet
To start claiming Satoshis on Free Bitcoin Faucet, you need firstly register an account. Upon registration, you will receive an email with a confirmation link. In my case, I haven't received the email at all. Once you confirmed your account, you can log in into your account and go to the Faucet page. There, you can do your first roll.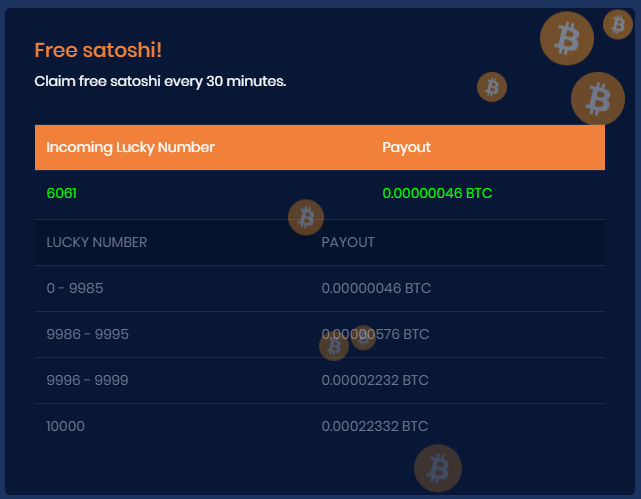 Provably Fair System? – Nah
Although the owner claims to be provably fair at the Fairness page, you can't really find a provably-fair system at the Faucet page. This simply means they could lure you in getting the lowest rewards every time. The chance to win the jackpot? Zero.
Reviews by Users
At the Faucet page, the owner asks for leaving a review on Scam.live. On the review platform, the faucet received 4.43 stars out of 5 by 56 users. Also, on forums like Beermoneyforum, many users are repeatedly stating they received a payment from them. However, users who have a large number of referrals alleged that their withdrawal requests were disappeared.
Besides that, users are reporting that the faucet reward has been lowering since its launch.

I advise being careful when you refer users to the page as your account may be flagged with spam activities. Moreover, with decreasing rewards from time to time, it is quite difficult to reach the minimum withdrawal. Therefore, be sure to follow regularly the forums to check out whether they're still paying.
Owner Information
At the page, there is no information about the owner. Also, the WHOIS query did not return any useful information as they're hiding behind WhoisGuard, an anonymization service. Therefore, no data concerning the owner nor his credibility can be provided.
Advertising – an indicator whether the faucet pays
The main income of faucets is advertising. Without them, they are unable to pay their users. Thus, advertising is one of the crucial parts of a faucet.
Free Bitcoin Faucet shows advertising though of a cloud mining provider, but that's the only one at the website; there is no other advertising placed on the website.
That's why I doubt that the owner can fund his high-paying faucet with this one cloud mining advertising because the target group for such ads are investors and not newbies whose pockets are empty anyway. Therefore, referral commissions are really low.
---
Conclusion
To sum up, Free Bitcoin Faucet may be a high-paying faucet. And it may be popular amongst faucet collectors. But that doesn't mean, they are legit. The bad reviews are amassing when time passes as described above. Nevertheless, as long as the faucet pays to the user, I'd suggest claiming as much as possible there. Don't forget to check out regularly forums and reviews pages for negative rewards as they could exit scam anytime.
Personally, I wouldn't use it because it is questionable how the owner funds the faucet, although, only advertising is placed on the page. My guess is that they'll exit scam sooner or later.