Two months ago, I discovered FocusGames.io through an email. It had come from mexicantarget, the former owner of FaucetHub. He welcomed all users back with a bonus when they join the platform. I immediately joined and claimed the bonus. First of all, I had been sceptical because they didn't have Bitcoin integrated. In fact, they pay their users in FGN, a token based on the TRON network. I have doubted whether the idea of having a faucet token is brilliant. Nevermind, I continued to use the site. In the first days, my rewards were really low, but after two months of daily use, my rewards have been increasing massively to a certain point I couldn't believe. And I'll tell how I did that.
Details
Name: FocusGames
Website: https://focusgames.io
Launch Date: June 2020
Rewards: varying on your activity (I earn $0.10 passively daily, see below for more)
Cryptocurrency: Focus Token
Withdrawal Method: FGN Microwallet (Direct Payment)
Withdrawal Threshold: 20,000 FGN (threshold to receive into your wallet)
What is FocusGames?
FocusGame is cryptocurrency earning site with a faucet and some other great features to increase your earnings. You'll find offer walls where you can complete specific tasks, daily bonuses you need to solve daily and some casino games you may know. And all are optimized to make it beneficial for you – you will make a profit in the long term.
The thing that makes FocusGames unique in comparison with other site is the house-own token Focus Token. Unlike other sites, you'll get paid here in FGN which can be exchanged on Poloniex for TRON which is a cryptocurrency similar to Ethereum.
Get Started With FocusGames
First of all, create an account on FocusGames. You can do so, by clicking here. Upon registration, I suggest redeeming the coupon code "FGN2020" which rewards you with 10,000 FGN! You can redeem it under Wallet > Coupons. Once done, I recommend to do some faucet claims. This is the only way to increase your balance as a newbie.
I recommend making 50 claims because you'll unlock a bonus in Daily Bonuses. Moreover, I would also start chatting in the chat to benefit from Chat Rains. Once you claimed 50 times, just take a look at the Daily Bonus site which tasks you have to solve yet.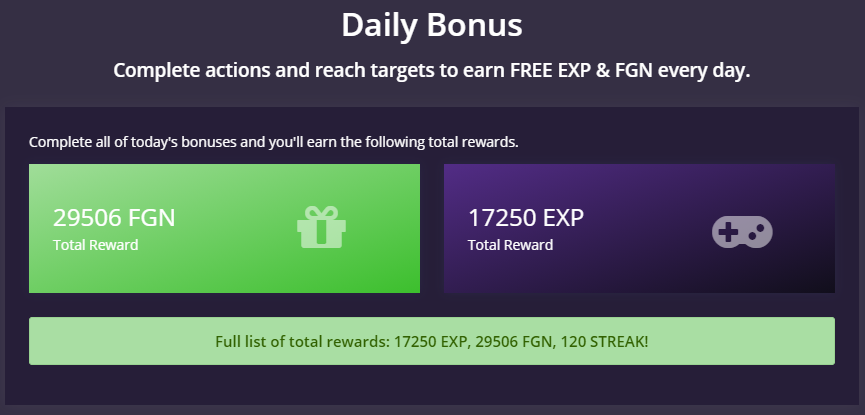 My tip: Solve an offer from the Golden Offerwall and buy one ticket in the Daily STREAK lottery to be eligible to complete the daily bonus.
As I've mentioned above, don't shy to use every single feature from the site, even the casino games (Vegas-style games). I can promise that you'll profit in the longterm at these games, you won't make a loss!
Make the most of FocusGames
You'll keep wondering how to make the most of FocusGame. There are many ways that contribute to earning faster on FocusGame. I'll explain what these are.
Do Offers from Offerwalls
This shouldn't be a surprise but I'll repeat it. Do offers from Offerwalls, especially those from the Golden Offerwall of the Day. Just find a suitable offer where you'll make decent FGBUX. FGBUX is the currency for the Offerwalls. These can be exchanged in the exchange at a great rate later.
Personally, I love the offers on Adgatemedia where you need to complete 100% on quizzes. This is easy to make for anyone if you watch the quiz answers elsewhere.
Play Vegas-style Casino Games
You might think that you'll lose in casino games. This isn't true. Playing Vegas-style casino Games can be beneficial in the long-term. I made at Mr. Sloth and Sir William impressive amounts of FGN I can't do elsewhere on FocusGames.
Oh, and the other casino games might also be profitable but I cannot guarantee that you'll make such big wins like in Vegas-style games. So, be careful playing with Duke Rambo and Multiplayer Lottery.
Do your Daily Bonus every day
I'll repeat it again: Do your daily bonus – every single day. Through this way, you'll raise your Daily Streak Level which unlocks some bonuses and benefits with each day. And, you'll raise the completion rewards at few Daily Bonus tasks.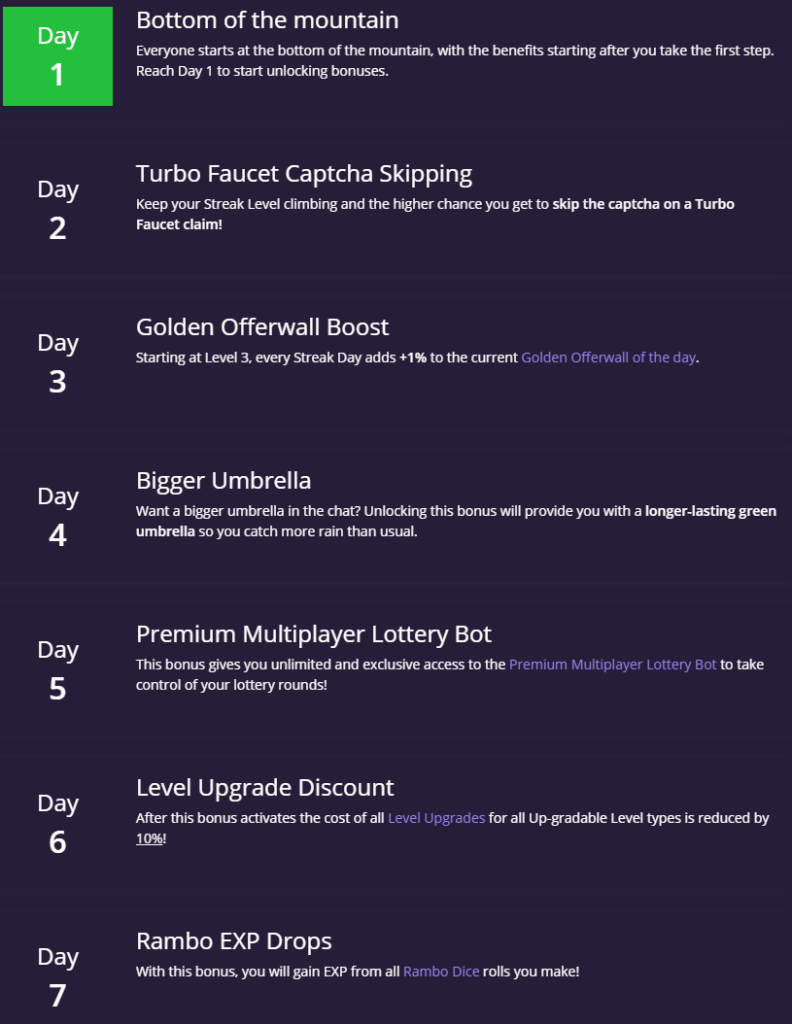 Some more…
There are actually some other methods to increase your earnings like Chat Rain but the above ones are probably the ones I personally use. If you want to get to know some special tricks I found out during two months of intense use of FocusGame, please take a look at these six exclusive special tricks for FocusGames. It covers all information that you need to maximize your earnings. And, these are tips that no one else could come up with!
---
Referral Program
Like every other crypto earning site, FocusGames also offers a referral program with generous commissions. These are as follow:
Offerwall Rewards: 30%; every time someone completes an offer, you'll receive 30% commissions in FGBUX.
Turbo Faucet Claims: 15%; every time someone makes a Faucet claim, you'll receive 15% commission.
Daily Bonus Rewards: 5%; every time someone completes a Daily Bonus Task, you'll receive a 5% commission.
User's Level Up: in EXP; every time someone levels to a new level, you'll receive that level number in EXP. For instance, a level up to 425, credits you with 425 EXP.
In my opinion, the referral commissions are worth to refer some new people to the platform.
Payment Proofs
FocusGames.io is definitely paying – without doubts. I've received my withdrawals into my wallet without any problems. Below, you'll see a list of withdrawals I made so far.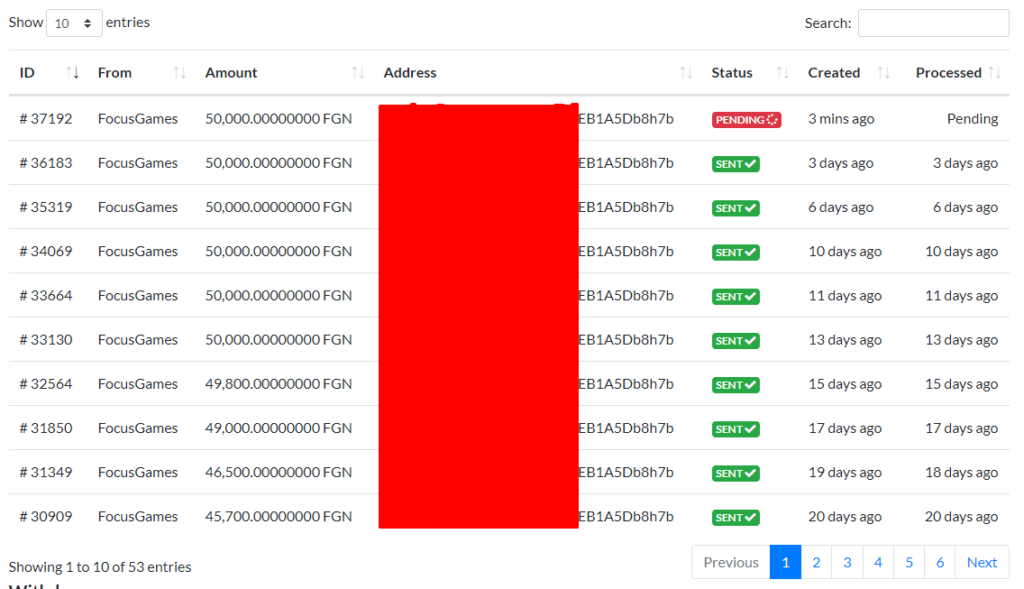 It's worth noting that your maximum withdrawal amount increases with each level by 100 FGN. This means that you'll be able to withdraw a maximum of 20,000 FGN at the beginning. Later, you can withdraw a maximum of 50,000 FGN every day.
Is FocusGames.io a legit site?
Of course, it is. FocusGames.io is run by mexicantarget. Mexicantarget was the owner of FaucetHub – a micropayment service amongst faucet owners and users. He also ran some other sites in the past, e.g. FaucetGame, PokeBits and some more. He also plans to open new crypto earning site in the near future as he announced recently on Twitter.
In my opinion, he plans to stay with FocusGames and his newly announced project for a longer time in the cryptosphere.
How to Exchange your Focus Token to Tron
Exchanging your Focus Tokens isn't that hard. Please visit firstly the decentralized exchange Poloniex. There, you have to log in using your TronLink Wallet (and probably authenticate with Poloniex services). Once logged in, you can choose from the right side your desired price from the buy order book. After that, please use the slider to choose the amount of FGN you want to sell. Finally, click on Sell and approve the interactions with the smart contract. Hurray! You just sold your Focus Token to Tron!
Final Thoughts of FocusGames
To sum up, FocusGames.io a crypto earning site where you can do many activities to get rewarded with a lot of FGN in a short time. The features that FocusGames offers are countless and everything contributes to maximizing your earnings. Moreover, you'll also find a highly profitable referral program that brings you a small passive income. Lastly, there is no doubt that FocusGames.io might be a scam or similar. You might lose if the Focus Token price spikes down in value, but at some point, it might go up again.
Personally, I made within two months already more than 3 million FGN by intense use. At a rough day, I earned somewhere around 100k to 150k FGN. Now, I've already accumulated some Focus Token which I withdraw every day. In addition, I referred about 170 users to the platform which also bring a decent small side income.
All in all, I recommend using Focus Games as it's currently in the beta phase and they plan to add more features to the site like the Store.