A hybrid game named Coin-Farm offers decent rewards by collecting eggs from birds, both for newbies and investors. Newbies can receive a free bird. For those, who can't get enough of the game, may invest for higher returns. The ROI here ranges between 120 and 200 days.
Since this seems too good to be true, I'll examine in the following whether they pay or not.
Details
Name: Coin-Farm
Website: https://coin-farm.net
Rewards for Beginners: Green Birds + 300 silver coins (= equivalent to two green birds)
Accepted Payment Method: Payeer, Bitcoin, Visa and Mastercard
Withdrawal Methods: Various withdrawal methods (e.g. Paypal, Bitcoin)
Withdrawal Threshold: 0.04 USD (using Payeer)
What is Coin-Farm?
Coin-Farm is a hybrid game that is suitable both for beginners and investors. On Coin-Farm, users have to buy eggs (if they haven't done that yet) and collect eggs from the purchased birds. Later, they've to sell the eggs in return for silver coins. The silver coins are split amongst two balances: one to buy birds at 70% spread, and the other to withdraw them to real money at 30% spread.
Get Started with Coin-Farm
First of all, register an account on Coin-Farm. After the registration, you will be prompted to follow the steps where you'll receive a green bird and 300 silver coins on completion. I suggest you use the silver coins to buy green birds if you don't plan to invest. Otherwise, just save them for later purchases.
After a couple of minutes, you can go to the Eggs warehouse and collect your eggs. Once you did that, you can decide whether you want to sell the eggs or keep them. It's important to note that you can claim once a day or even a month, there is no limit of eggs you hold.
Different Birds Types
The site offers various birds with various returns. It is striking that the ROI can be reached faster by choosing an expensive bird.
There are seven birds in which the cheapest starts from 150 silver coins (equivalent to 0.0114 USD) to the expensive ones of 375 000 silver coins (equivalent to 28.50 USD). Below, I sum up the ROI for the cheapest and expensive bird.
| | | | | |
| --- | --- | --- | --- | --- |
| # | Cost | Daily Return (Repurchase balance) | Daily Return (Withdrawal Balance) | ROI |
| Green Bird | 150 silver coins ($ 0.0114) | $ 0.000128 | $ 0.000055 | ~ 119 days |
| King Bird | 375 000 silver coins ($ 28.50) | $ 0.559877 | $ 0.239947 | ~ 208 days |
Owner Information
Research of the owner doesn't return any helpful information as they're hiding behind Whois Guard but it can be said that they're coming from Russia. Moreover, it can be said that the site has been running since August 2019 for 240 days. This means the game has already passed multiple cycles and may do selective payments or no payments at all.
Reviews by Users
I found mixed reviews concerning Coin-Farm on Trustpilot and forums. On Trustpilot, the site has 3 out of 5 stars. Some say they are getting paid and some others do not. From what I could found is that the site stopped paying to one's user account once he makes a 40% return. Also, other reports that they need active referrals in order to submit a withdrawal request.
The catch is that you need to invite people using the referral link so they register with your upline & deposit. Having active referrals is crucial to withdraw any earnings. If you don't do this, you will be unable to reach ROI.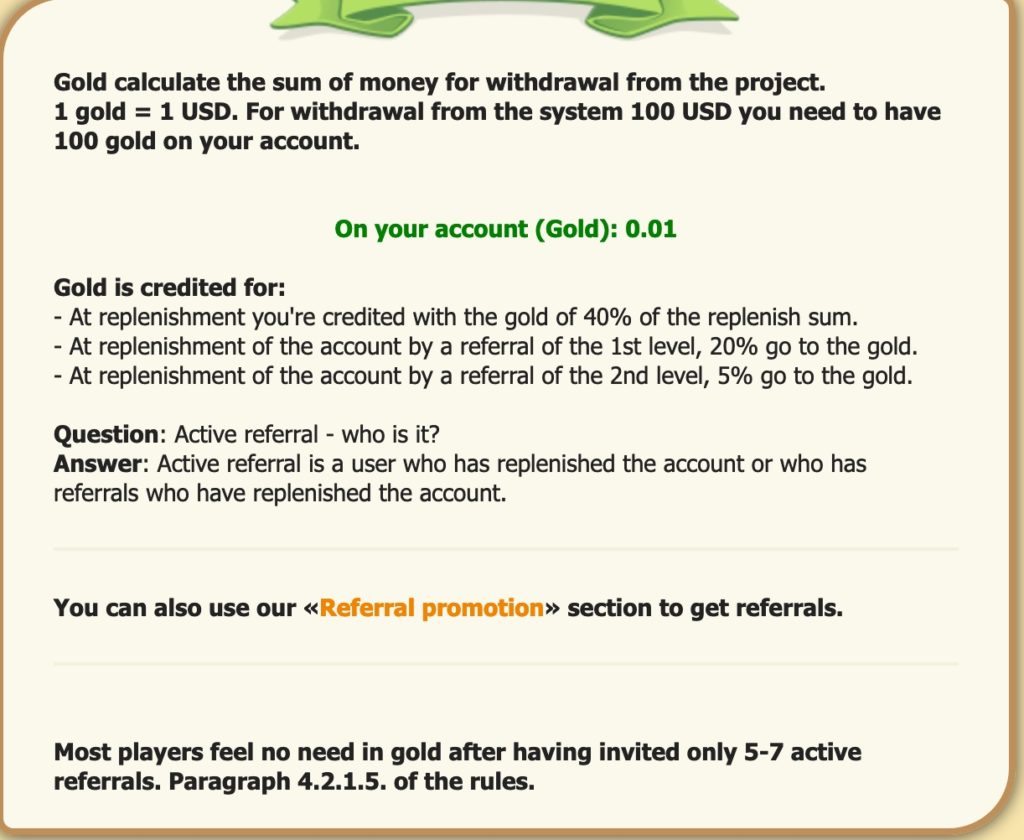 Also withdrawing from Coin-Farm is impossible if you didn't make a deposit before. I earned enough to make a withdrawal to Payeer and this is what I've got. They demand a deposit firstly in order to receive the withdrawal. So, say goodbye to free money.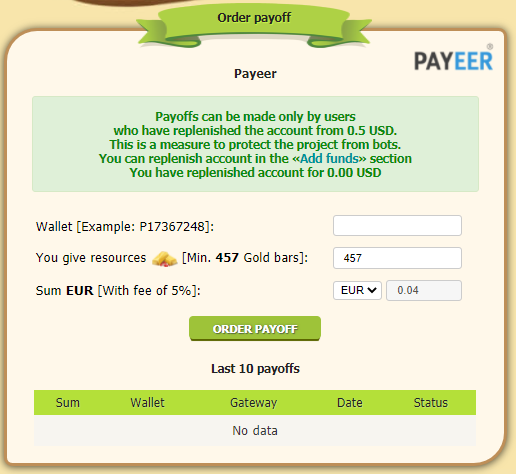 Part of Scam Network?
Moreover, I found out that the site is related to other scams as they used the same script and went scam after a couple of months. Personally, I used four years ago a similar site and didn't reach the ROI.
According to a forum user, Coin-Farm is related to the following sites: birds-capital.ru, coin-birds.com, golden-farm.biz, epic-bird.com, goldenbirds.su, moneybirds.org, rich-birds.com and super-birds.ru
Conclusion
In conclusion, Coin-Farm is a hybrid game where beginners and investors can profit from it. Although they seem to be paying thanks to the Payment proofs, the reality is the opposite: Users are getting paid in the first days, but once they reached 40% profit, their account will be disabled miraculously or are unable to withdraw anymore. Also, getting free money is also impossible. Therefore, please take care when interacting with this or similar sites and invest only what you can afford to lose.