Note from 8th March 2021: BitShark turned into a scam. Please avoid using them!
Today, I found a high-paying faucet, BitShark, that has been online for a few days. BitShark is a mining faucet where users have to dig coins firstly and receive a reward afterwards. Moreover, it offers a Dice and a Crash Game where users can multiply their Satoshis.
Since the rewards are pretty high and they've been online for a few days, I consider it as a high-paying faucet and examine it in the following.
Details
Name: BitShark
Website: https://bitshark.io/
Rewards: 5 Satoshi to 0.1 BTC (check below for more info)
Cryptocurrency: Bitcoin
Withdrawal Method: Direct to the Bitcoin Address
Withdrawal Threshold: 0.0003 BTC
What is BitShark?
As mentioned above, BitShark is a mining faucet where users have to mine (click) stones to receive a reward in Satoshis. Users can also use the integrated Dice and Crash game to multiply their earnings manually or on autopilot. If that's not enough, you have the choice to deposit Bitcoin to make the most out of the Dice and Crash game.
Get Started With BitShark
Firstly, you need to sign up on BitShark if you haven't done so yet. After that, please login onto BitShark. You will be redirected to your dashboard where you can mine the stone and receive a reward. As a newbie, you'll receive free 5 mining turns.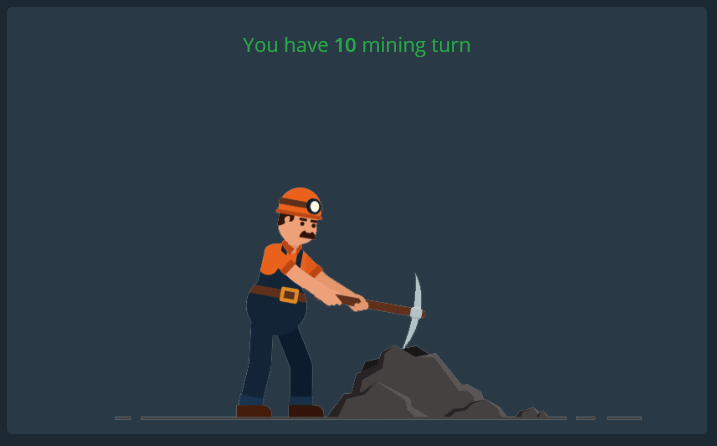 Although on the site is stated that you can win up to 0.1 BTC, I received on my own rewards in the range from 1 to 25 Satoshi (updated 30nd May, 2020).
In the June update, BitShark introduced a new level system which limits how often you can claim. The lowest level starts at claiming every 60 minutes. However, with the highest level, you can claim every minute from the faucet which is about 1,440 claims a day. Your level depends on your wagered amount on the Dice game, Crash game and King Kong game. So, the more you wager, the higher is your level.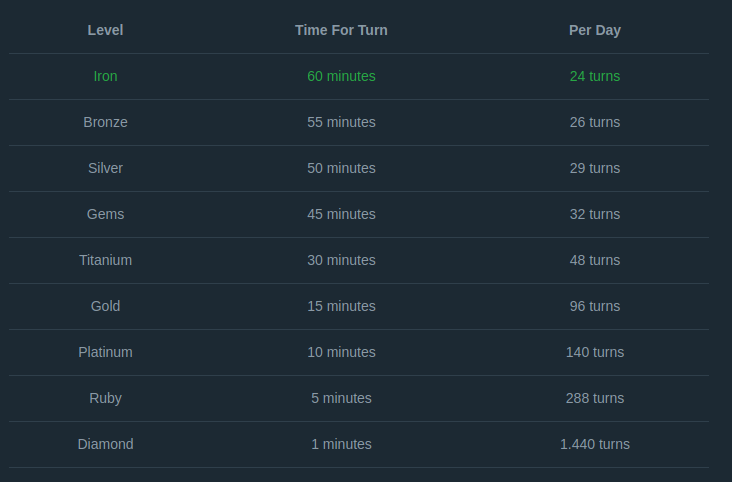 After you mined 5 times, you can choose to multiply your earnings using the Dice or Crash Game or just wait for your next claim.
Multiply your Earnings with Dice or Crash Game
If you want to make the most out of BitShark, you can also deposit some Bitcoin into your BitSharks account and play the Dice or Crash game. To do so, please click on the green-highlighted balance and click on Deposit, there you'll receive a deposit address. After that, you can make a deposit.
Dice Game
The faucet has a Dice game-integrated where players can roll and win BTC. The Dice game is rich of options, e.g. setting your profit, auto-bet with stop loss or amount cap. Last but not least, the Dice game is provably fair and you can verify your bets at any time.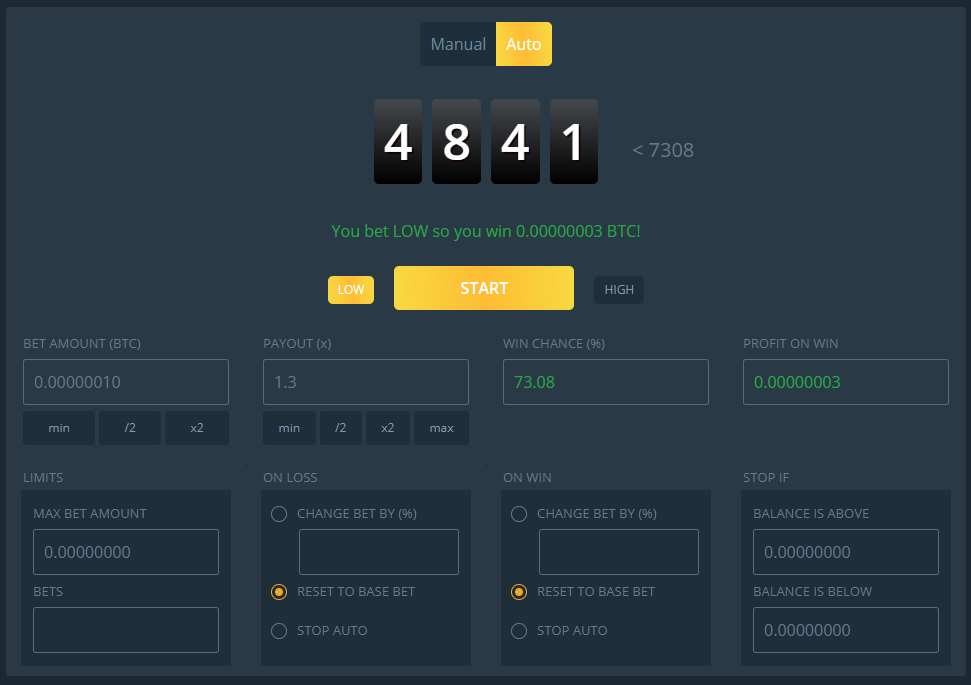 Crash Game
Besides that, you will also find a neat Crash Game on the faucet. The Crash game is the same as you know from other sites, e.g. Bustabit. But here is the instruction for newbies: you place a bet and wait until the game starts (countdown). Upon start, the line in the graph starts rising first slowly and then exponentially. At some point, the line will stop to rise and crash – whether at 1.07 or 200x. Nobody knows it and that's why the addiction factor is high.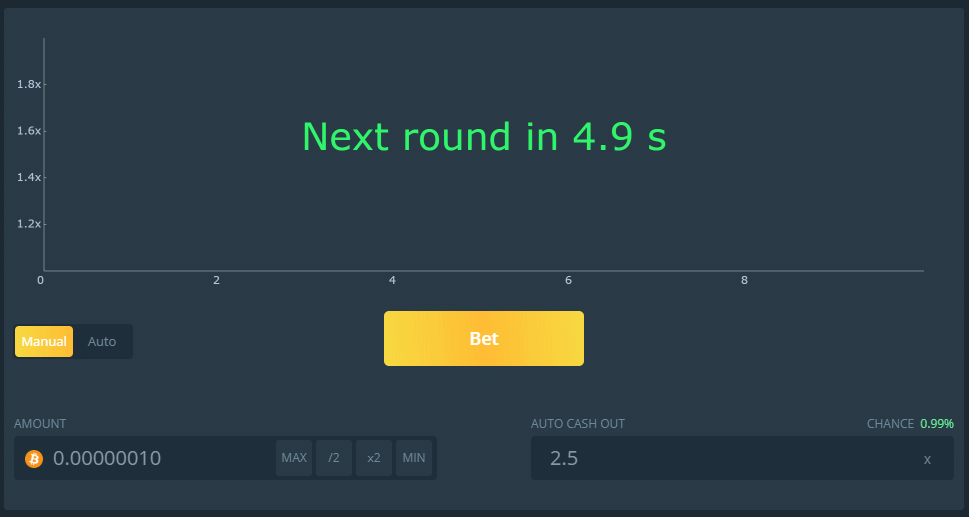 KingKong Game
In the recent update, BitShark introduced a KingKong game which is well-known amongst crypto gambling players. The concept is based on the original site BitKong. The point of the game is to choose one of the four cells. Upon clicking on a cell, the whole row will be revealed and you'll get to know if the clicked cell is a fruit or shit. If it's a fruit, the row above will be unlocked and you can decide to continue playing or withdraw your profits. If it's shit, you lose the game.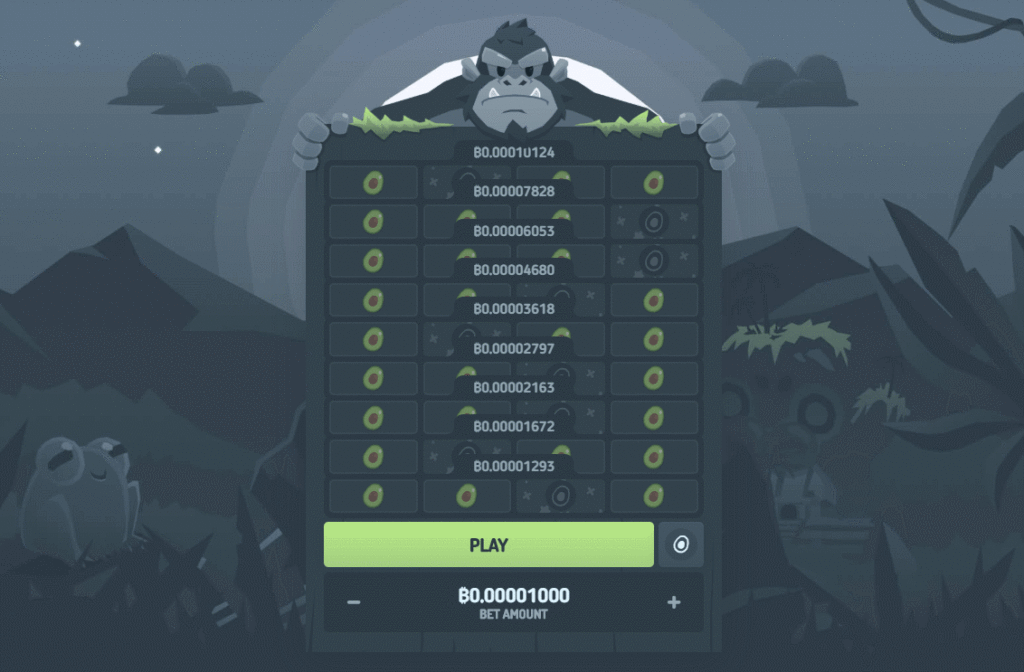 Cloud Mining Game
In the June update, BitShark launched Cloud Mining on the platform. They offer four different plans that differ in the duration, interest and profitability. The lowest plan starts at 0.001 BTC with a duration of seven days and 36% interest a year. The highest plan starts at 0.10 BTC with a duration of 360 days and 72% interest a year.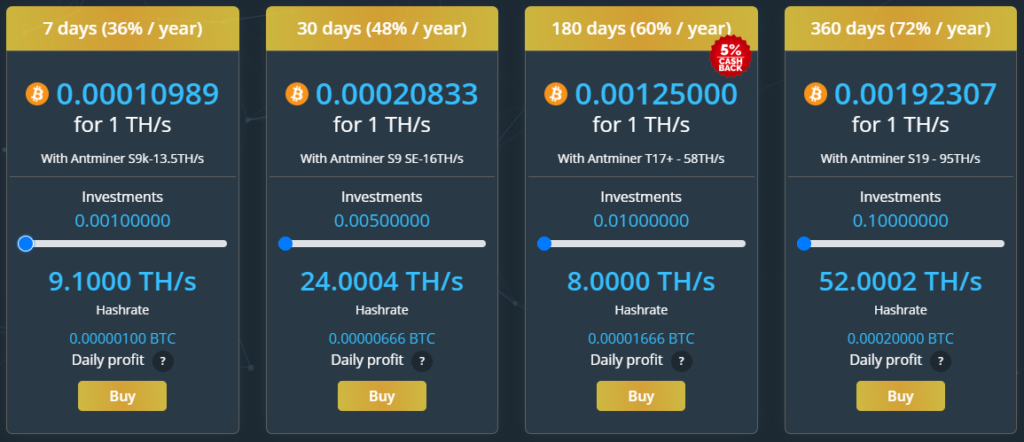 So how do you profit from the Cloud Mining? It's really simple. You just choose a plan and slide to the desired amount you want to invest. After that, you click on Buy. For now, you'll start receiving profits every day for the plan duration. Once the plan expires, you'll receive the full invested amount back in your balance. After that, you can decide if you want to re-invest or cash out the profits.
Note: Personally, I don't recommend investing in cloud mining since, in many cases, the website shutdowns before you even reach the profit. The launched Cloud Mining on BitSharks simply shows that they won't last enough. And make sure to invest only what you can afford to lose.
Referral Program
The faucet offers a referral program with generous commissions on most features of the website. These are as follow:
At Mining Faucet: 50% of the base prize
At "Multiply BTC"-Game: 0.25% of wager/bet
Cloud Mining: 8% to 12% interest of users (depends on the chosen plan)
For every referred user: 5 turns for mining
The commissions of the "Multiply BTC" – Game will be paid out for every 500 Satoshi that your referred wagers. Any amount below that will be saved for the future and credit once it reaches 500 Satoshi.
Moreover, it's worth noting that you won't receive the commissions every hour as stated on the website, however, you'll receive the commission four times a day. So don't be bothered if you receive no commissions hourly.
Payment Proofs
BitShark is paying its users. Below, you'll find payment proofs of forum users and a successful withdrawal request made by CoinPensation. Moreover, what users and I like about BitShark is the swift and uncomplicated withdrawal process.

Update of 8th March, 2021: They stopped paying their users. Please avoid using BitShark!
Is it Legit?
According to my research, I found out that the admin of BitShark is hiding behind WhoisGuard and I couldn't find any information about the owner somewhere else. Concerning the financing, it remains unclear with which funds the faucet pays its users. My theory is that both games, Multiply BTC and Crash game, is a source of income for the faucet. Moreover, the high withdrawal threshold excludes in the first place newbies from withdrawing easily which indicates that the faucet can keep running for a long time. But that doesn't mean they'll run forever.
Final Thoughts Of BitShark
All in all, BitShark is a newly-launched mining faucet whose rewards is truly immense compared to other faucets. The faucet offers plenty of features to multiply the earnings, e.g. Dice Game, Crash Game and deposit feature to maximize profits. Also, the referral commissions are pretty attractive and can be profitable if you refer to lots of users. Despite these facts, it's unknown how the faucet is financed and I deem they'll close down in a couple of months.
Personally, I already earned bucks of Satoshis at BitShark by referring plenty of users and the commissions are flooding in my wallet like a fountain. Overall, I like the concept of digging stones and the Crash game, which is really scarce to find.
If you are up to find other profitable faucets, you can find the highest paying faucets here.