Update 1st February, 2021: Be cautious when dealing with BitDice!
BitDice closed down the doors to exit any investments from the casino using the CSNO. Thus, generating a 100% loss to those who still hold the CSNO.
In fact, CSNO holders anticipated the promised dividends every quarter which hasn't been distributed for two years now. From the management, investors haven't been getting any message. Contact to the support results in empty phrases which do not contribute at all. Also, gamblers should beware of depositing coins into the casino: Expect that your deposit won't be credited immediately (there is for sure a need to contact the support) and you are restricted to withdrawing only $10 000 a month.
This warning will be removed as soon as things are improving which I doubt it does.
---
On 27th December 2020, BitDice relaunched version 5 of their platform. It comes with a significant new design along with new UX as well as a revamped bonus structure. From now, users can earn prizes in the daily or weekly wager competition with rewards of $250 and $2500. Moreover, more things are planned to integrate in the near future, such as fiat integration and more exclusive games. But is it worth joining the platform and are they legit? In the following, I'll examine it.
Details
Name: BitDice
Company: Kairos Overseas N.V. (view license)
Website: https://bitdice.me
Accepted Currencies: Bitcoin, Litecoin, Ethereum, Dogecoin, EOS and CSNO (more currencies will be added)
Minimum Deposit: none for all cryptocurrencies
Minimum Withdrawal: see below
How To Get Started With BitDice
First of all, register on BitDice using your desired username and email address. Make sure you don't use a disposable email address as this is forbidden
Upon successful registration, you may want to enable 2FA if you plan to play with large amounts. You can do so by clicking on your username and click on Security. There you can also set up other configurations, such as locking cryptocurrency address or whitelist IP address.
For being a new user, you will have a starter balance of 100 Satoshi for each currency. This will credit into the corresponding currency when you select it.
Nevertheless, to enjoy the full gaming experience, you might want to deposit some coins into your account. Currently, you can deposit one of the five cryptocurrencies above at no minimum deposit. In the near future, more cryptocurrencies are planned to integrate.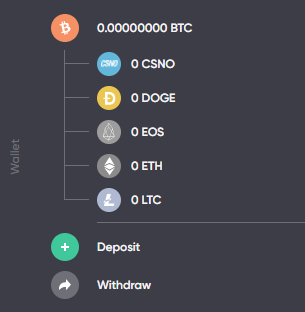 Games At BitDice
On the one hand, BitDice offers exclusive games, such as Dice, Black Jack, Bit Ace and Lottery. On the other hand, it also offers typical casino games, such as slots, table games and video poker from different providers. Also, you can also place bets on sports and live events. Ultimately, the exclusive games are provably fair which you can verify very easily.
Dice
BitDice core's game is probably the Dice game. With a simple design, anyone can place bets automatically or manually from as low as 0.00000001 for all currencies.
It's worth noting that you can see the new graph which depicts the profitability of your session. Lastly, the Dice games come with auto-bet function with the essential configuration you might need. For instance, setting bet limitations and auto-increase on bets.
Black Jack
BitDice also created a unique blackjack game on their own. Unlike Dice, the minimum bet is significantly higher at 0.00001000 BTC (and equivalent in other currencies). Nevertheless, gamblers will get to know a fresh user experience with the new design.
Bit Ace
Bit Ace is just the revamped traditional casino game Texas Holdem poker that comes from BitDice itself. Players can decide between multiple chances/risk levels which determines your profit. To win the game, you need to have a better poker hand than the dealer when all cards are revealed.
Lottery
With the launch of version 5, BitDice added the new game Lottery. At Lottery, you can buy tickets from as low as $0.10 in any desired cryptocurrency. And, you can win at the lottery with just two matching numbers up to seven.
Each round lasts for a week and ends on Saturday evening. Upon ending, the prizes will be distributed to tickets' holder whose numbers match with the drawn numbers.
Others (Slot Games, Betting)
BitDice offers more games than the above-mentioned games. For example, they provide slots, table games and video pokers from different slot provider. These are Endorphina, GameArt, Hobanero, Tomhon. Please note, you can only pay with Bitcoin here.
Besides, you can also bet on sports/live events in BitDice's Sports tab. You'll find here different sport events ranging from football to eSports. It's important to note that you can only play with Bitcoin, Ethereum and Litecoin at sports betting.
What bonuses does BitDice offers?
BitDice is rich of bonusses. You'll find six different kinds of bonuses, e.g. BetBack, Treasure Chest and Wager competitions. To learn more, check out this page.
In the heart of BitDice, your level plays an essential role to benefit from those various bonuses. Your level depends on the total wagered amount. So, to level up, you just need to place some bets regardless of the currency.
The level determines your loss-back, bet-back and treasure chest reward. You can find a detailed overview of levels here.
Aside from levels, you'll also find a currency named Crystal. Each time you place a bet or lose a bet, you'll receive a small amount back. That's the bet-back and loss-back. These will be paid in Crystals. You can convert the Crystals to Bitcoin anytime when you have one Crystals or more.
Another way to obtain Crystals is through the Daily Treasure Chest.
Finally, you'll also find new wager competitions. There is a daily wager competition taking place with $250 in total rewards.. Besides, there is also a weekly wager competition with total rewards of $2500.
Is BitDice legit?
Yes, they are. Although BitDice was accused of lack in updating the website, e.g. lack in games, promotional bonuses etc, this changed with the version 5. According to the operator named Alex, they look forwarding bringing weekly and monthly updates to BitDice to create a even better user experience. They plan to bring out new games, currencies and much more.
Besides that, BitDice is owned and operated by the company Kairos Overseas N.V. under the laws of Curacao. They also got a license to operate gambling activities there in Curacao. You can view this verified license here.
Finally, BitDice has been amongst Crypto Casinos for a very long time since their establishment back in 2014.
Depositing And Withdrawing Coins At BitDice
Currently, you'll find only five cryptocurrencies at BitDice: Bitcoin, Litecoin, Ethereum, Dogecoin, EOS and CSNO. However, this is subject to change in the future as more currencies will be added onto the platform.
All cryptocurrencies have no minimum amount to deposit and any deposits will be credited immediately after first confirmation to your balance.
Nevertheless, you'll find minimum amounts when withdrawing some coins. These are as follow:
BTC: 0.00050000
DOGE: 100
LTC: 0.001
ETH: 0.00001
EOS: 0.0001
Please note that BitDice deducts a small fee from your withdrawn amount to cover the transaction fees.
A plus point are the swift withdrawals; i received them immediately when I requested them to withdraw.
Do they have an affiliate program?
Yes, they have! For every wager your users make, you'll receive 5% of its House edge. Any affiliate earnings will be paid once per day in Crystals. You can convert these to Bitcoin anytime.
---
Outlook for BitDice
BitDice is currently in the initial phase of their new version 5 with limited currencies and games to gamble. However, a glimpse behind the scene reveals an ambitious team with large goals for the future. And the accusation of a failed project is diminished day by day with new updates arriving at the casino.
In the future, you will not only find many cryptocurrencies to gamble at BitDIce but also a new range of games including exclusive games by BitDice and many more.
Although BitDice can't compete currently with other large crypto casinos, such as 1xBit. However, I'm pretty sure that BitDice will catch up with new games, bonuses and anything else gamblers want. I already find some features on the site surprising, e.g. the chatbots that rewards coins for doing some specific tasks or the daily treasure chest. Personally, I'm optimistic about BitDice's goals and what will come else.