Another year is going to end and crypto succeed with a big bang. However, those of you who missed the train, should not be disappointed by not joining the train. Instead, there are still promising crypto projects that have a great potential to grow in 2022 which I also hold!
As a side note, it's desperate to see that most people still suggest investing in coins, such as Bitcoin or Ethereum, whose chance to perform a 10x rise is pretty low. Therefore, I focus on cryptocurrencies with mid-or low-cap that hold great potential but still remain uncovered.
1. Terra (LUNA)
Terra is a cryptocurrency whose focus is the stable coin ecosystem. Over the past months, a lot of projects evolved in the Terra ecosystem. But that's not the crucial point to invest in Terra. Taking a deeper look at Terra and its stable coin UST, you will notice that Terra is a deflationary token. Why is that?
Every time when new UST is created, Terra is being burnt. This usually happens when Bitcoin or, in general, the crypto market licks blood. This makes Terra a deflationary token in which from time to time the supply of Terra shrinks.
Currently, Terra is hovering at $96.33. It started with a price of $0.62 at the beginning of the year and grow up by 155x times. Below, you will find a chart from ICONOMI of Terra vs. Bitcoin performance of the past six months.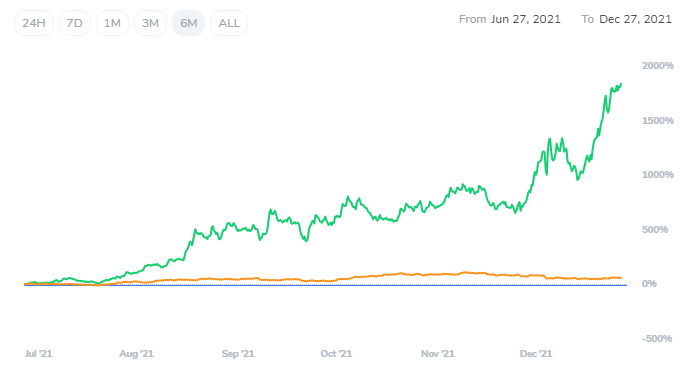 For the year 2022, I expect that Terra and its stable coin UST will have a more significant meaning than before which reflects into the price.
2. Helium (HNT)
Helium is one of the projects that I spent most of my time on. But let's get back to the topic. What's Helium? Helium is a decentralized network that incentives users by building out an IoT network for any device that needs an internet connection. This can go from parking sensors over e-scooters to an efficient supply chain. Moreover, any user can participate in the network & mine at the same time by buying a Helium hotspot.
Because Helium is one of the few projects with a real use-case as mentioned above, active development and a large community, I believe it is a crypto with potential in 2022.
At press time, Helium is hovering at $37. It started into the year with a price of $1.40 and grew up by 26x times.
3. Binance Coin (BNB)
Also, the Binance Coin is another crypto with great potential. Why? Simply because it's a catalysator for new crypto projects on the Binance Smart Chain. Holding BNB will not only yield interest on top of it but also rewards with new crypto tokens without spending them. Just take a look at Binance Launchpool and stake your funds in one of the projects.
Also, we should not forget that a BNB burn takes place every quarter which is a deflationary token. In combination with the use-case of BNB, it's definitely a crypto with potential that you should hold.
At the time of writing, Binance Coin is at $547.78. It started into the year with $37.79. As a result, the price has been doubled 15x times.
4. NEXO
Nexo is a cryptocurrency-based savings platform where users yield up to 12% interest on fiat and crypto. Like the Binance Coin, Nexo is also a catalysator and provides value by holding in the wallet.
But the essential point is the Nexonomics, a strategy created by the founders of Nexo, to accelerate the use-case of NEXO. From time to time, the list of benefits holding NEXO becomes longer, such as higher interest, lower borrowing APY. This will hold a great potential which reflects into the price positively.
Currently, Nexo is valued at $2.23. It started into the year with a price of $0.5812. Thus, it grew up by almost 4x times.
5. ThorChain (RUNE)
Hating all the KYC/AML stuff on traditional exchanges? Here comes ThorChain, a cryptocurrency that enables swaps over different chains, such as Bitcoin, Litecoin, Binance Chain and Ethereum. Say goodbye to unnecessary KYC/AML verification and the long exchange process.
Holding RUNE allows making a swap from one coin to another as transaction fees are paid in RUNE. Furthermore, it's necessary to supply RUNE when adding liquidity to a pool.
At the time of writing, ThorChain costs $7.37. At the beginning of 2021, it was valued at $1.294. So, the price has doubled by almost 6x times.
6. Spartan Protocol (SPARTA)
Spartan Protocol is a liquidity provider running on the Binance Smart Chain. But it's not just another liquidity provider, what's unique about Spartan Protocol is the creation of synthetic yield assets.
You may ask what are synthetic assets. Think of tokenized derivates that imitate the behaviour of the original token/currency.
Now, the real benefits are the leverage of the synthetic assets as well as providing liquidity without impermanent loss exposure. This simply means you can benefit from providing liquidity in the longer run. Thereby, you benefit from potential price appreciations in the future.
Furthermore, users can yield up to 77% for providing liquidity to the BNB pool, making a great investment. Besides, BNB pool you find plenty of other pools. As always, you need to buy & hold SPARTA. That's why SPARTA is a crypto with potential for 2022.
At press time, SPARTA is at $0.3112. At the beginning of 2021, the price was at $0.1441. Thus, you may have doubled your investment by the end of the year.
7. Mina Protocol
What weaknesses have Bitcoin, Ethereum, etc. in common? Yes, the always growing blockchain size. While Bitcoin has a blockchain size of 383.2 GB, Ethereum has almost 1 TB in size! Here comes Mina Protocol, the world's lightest blockchain with about 22 KB. This enables true decentralization as more people can empower and keep up the blockchain.
But that's not enough, Mina Protocol aims to build use-cases, such as one private internet login or permissionless web oracles.
Currently, Mina Protocol is valued at $3.67 and was launched in June 2021.
How will these cryptos with potential perform?
For the majority of the mentioned coins, I'm bullish that they might outperform Bitcoin in 2022 because these cryptos deliver a real-use case that not many people are aware of that. However, that's why I make a recap of these coins at the end of 2022 to compare their performance.
Warning: These investment tips are based on my own opinion. As always, you should make your own research before investing in one of these cryptocurrencies.